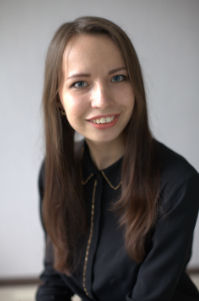 We've talked to Natalia, one of our custom project managers, to give you an idea of what working with our team is like.
Q: Natalia, please tell us about your role in the PG Custom team.
I am a project manager so my main responsibility is to manage the customers' projects. The management work can seem easy, but my role is managing in such a way that my team achieves the desired result using the most efficient resources and ensures customers are satisfied.  So I deal with planning, management, coordination and financial control of projects. I work both with customers and developers so I ensure the project is completed on time and within the agreed budget, that the project's objectives are met and that everyone involved in the project is doing their job properly.
Q: What do you like most about your job?
There's a lot I like about my job, but speaking about things I enjoy most about it, I'd firstly say that I enjoy communicating with people all over the world. It gives me the opportunity to understand people with different mentality, way of thinking, and different types of characters. So I learnt to find a common language  with a wide variety of people, listen effectively, question and write clearly, present my ideas appropriately, which saves a lot of time for the rest of the project.
I've always enjoyed puzzles and my job gives me the opportunity to puzzle out each project. When a project is completed and I see a positive result, a successful implementation and a happy customer, the contribution that my team and I have made makes me feel proud and satisfied. I know that all the preparation work has been beneficial. So the second thing I like most about my job is the challenge.
Q: What is the most difficult part of your job?
The most difficult part is when the implementation of the project doesn't go well enough and when we are behind the schedule. You do all the preparation work, oversee the budget, but then things come crashing down for various reasons and it's your job to maintain the order and make sure that it all comes together in the end. And that can be extremely stressful.
Q: Please describe your daily duties.
Day to day my job involves managing about 20 different projects at once. Those projects can include integration of a new feature to our scripts, re-development or removing the existing script functions, design work, moving content from one website to another, transferring websites to other servers, updating website versions and many other smaller requests. So I communicate with customers, find out as much details about their requests as possible and then speak with my team of developers and designers about them. So I mediate between customers and developers and this job is really very dynamic as far as projects I manage require quick interaction.
Q: What are your favourite projects, and why?
My favorite projects are design projects although they are the most complex ones as a lot of discussion and planning work is involved before the actual project starts. One should have good experience in project management in order to work with design projects. I can bravely say that I am experienced enough for working on such projects and the more complex the project is, the better I like it, because a really good feeling, a feeling of relief comes when it is all finished and you see the result. Design projects require more creativity, develop your imagination, and inspire you to new ideas, that's why I like them so much.
Q: What product by Pilot Group do you work with most often?
The company's most popular products are PG Dating Pro and PG Real Estate so we have more customers with these 2 scripts and customize them more often. The script that is more often customized of these two is Dating Pro. A lot of customers create a niche dating website and so require some special and unique features that identify their website and reside in their niche.
Q: What product by Pilot Group do you like to customize most?
There are no preferences in the product for our team; it all depends on the customization request. There can be both interesting and  just ordinary inquiries for each product. So we are happy to customize any product. It is just the idea that should be clear and precise and the customer's will and finances to have this idea realized.
Q: Do you customize third-party products?
We used to estimate customization work of third-party products (based on PHP or WordPress), but we have never really implemented any of them because the quote for such projects usually goes higher in comparison with our company's own products. The reason is that we work with in-house developers who know the software better than anyone; as a result they work faster. And when it comes to customizing third-party products that they are not familiar with, more time is required and as a result it costs more in comparison with our products. But we do integrate third-party products with our scripts on different levels. So we are ready to customize any products if we agree with the customer on the terms.
Q: Your message to the future customers of PG Custom/Experts team:
Do not be ashamed of your ideas, feel free to share them with us. Send as many as you can think of.  Be creative, imaginative and brave! We will always do our best to find a solution for you, we'll discuss and offer appropriate options and will make your dream come true!
Thank you for taking the time to answer our questions, Natalia.
And a bit of a sneak peek: PG Custom team is planning a new crowdfunding campaign soon that you might be interested in. Keep track of our news.