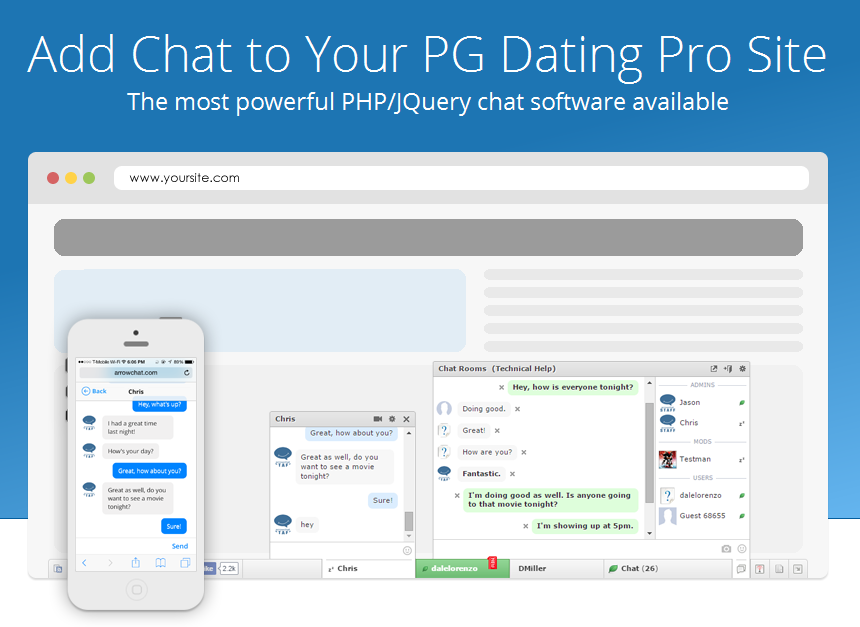 Video chat is a PG Dating Pro add-on that lets you activate popular chat solutions on your dating site. Right now the following options are available: 123Flashchat video chat and PPM/PPV chat, CometChat and ArrowChat.
Chat lets your site members communicate with each other face to face or in chat rooms, create rooms, invite friends and enjoy numerous extra features.
Please note that extra costs for every chat license will apply.
Today we would like to describe the process of installing and activating a chat by ArrowChat.
1. Make sure you have installed the Video chat add-on on your dating site. If you require assistance with the installation, let us know: we will be glad to help. Add-on installation is a free service.
2. Then, purchase a package of the ArrowChat jQuery chat from this page. These are the available options: Kick Starter edition, Premium, Business, or Enterprise package.
3. You will receive a link to download the archive with the chat files. Download it, extract the files into 'arrowchat' folder and upload it into the root directory of your dating site.
4. In the address line of your browser, type http://yoursite.com/arrowchat/install/ and follow the on-screen instructions.
View this video guide on how to install ArrowChat:

You will find more detailed instructions on this documentation page.
If you have any questions or new ideas, feel free to contact us by email, in the Live chat or leave a message in the Helpdesk.