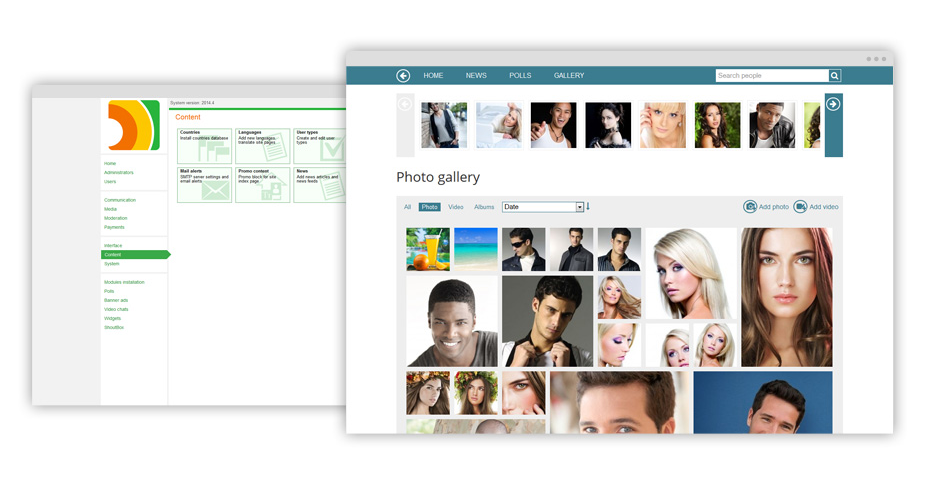 PILOTGROUP.NET – PilotGroup.NET team are happy to announce the new release of the PG SocialBiz script.
This social networking and community script has been completely re-built on the CodeIgniter framework, and it has since evolved into an independent product. Its module-based structure makes it easy to develop and install new functionality on the site.
SocialBiz software provides full access to source code. It is a wonderful opportunity to adjust the social networking website to any niche idea by adding new features, integrating a unique design template, and plugging in third-party services such as payment gateways, video chats and so on.
The online community script by PG SocialBiz offers the very basic features of a social networking site along with the more specific ones. Thus, it is possible to sign in and create a profile on a site, restore password, use social login or login with email.
A new site member can then find friends and engage into different site activities, including multimedia files upload, photo and video galleries, comments on activity walls, likes, shares and winks, posting short messages in the ShoutBox, etc.
Communication opportunities include mailbox, instant one-on-one messenger, profile wall and comments, direct chat with site administrator (Tickets add-on), and video chats by third-party providers including 123Flashchat and CometChat (Video chats add-on).
The community site administrator will be pleased with access to site statistics, users' info and payments, moderation tools, extended SEO settings, profile editor and field editor, design editor including colour schemes and dynamic blocks sections, menus management and the full-scale modules management. It is possible to install and uninstall modules at a click of a mouse button.
Monetization options are presented by the following paid services: banners, carousel/featured users, paid registration, stealth mode, reading and sending messages, activity in search, and more. The list of the paid services is being continuously worked on by the PG SocialBiz team.
What one may also find appealing in the PG SocialBiz software is that it comes at a one-time fee, and there are no ongoing payments for the license.
The website owner will have full control over the database of members, payments and prices. PG SocialBiz is an ideal solution for independent entrepreneurs.