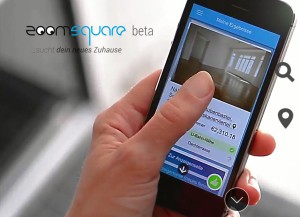 An Austrian company is bringing the speed, fun and usability of dating app Tinder to property. Will 'swiping' property be a one-night stand or a match made in heaven?
Tinder is the dating app that in two years has attracted 10 million daily users. Sign up and it sends you the photo and age of singles in your neighbourhood who have also signed up. Look at the picture, then just swipe right for 'hot' and left for 'not'. If both swipe hot, details are swapped and the wooing can begin.
Zoomsquare aims to bring the same fun and instinctive usability to property portals. It gives users a choice of properties matching their search, with the most important facts displayed on the page. Based on those, but mostly on the picture, just like with Tinder you choose whether you want to see more details by swiping left or right.
The 14-strong Zoomsquare app team says there is one common problem to previous mobile platforms. "Online search for real estate used to be arduous. Many platforms, no oversight and many hours spent in front of the computer. We all thought with the modern technologies provided today, it has to be possible to develop a better search engine." With this idea, they started creating Zoomsquare. The free service can be used as an app on the smartphone – iPhone or Android – or on the computer.
The basic functions are easy. First, house-hunters choose the locations, the type of real estate, square metres and rooms, price range and extras such as parking space, bath tub, balcony or garden. After registering for free, they get a list of properties that match their exact criteria. A succession of pictures appear on the screen and punters swipe for hot or not. This creates a list of properties they are attracted to and the app invites them to take a closer look.
Zoomsquare claims to provide links to 80 property portals and 70,000 properties. It has a simple and appealing design and is available for all Austria. For Vienna and Salzburg, district searches are available, and the app developers are working to include more cities.
Co-founder Andreas Langegger says in a press release, "The property search of the future is mobile. In Austria and Germany, half of the searches are being conducted on smartphones. In the US, it's already over 60%". Developers have been inspired internationally by testing hundreds of apps from over 60 countries on user-friendliness, innovation and design, and say that the swipe effect will make this a winner globally.
So if you see people crazily swiping their thumbs over their smartphones on a Viennese bus, it could mean they are looking for their dream lover, or their dream home.