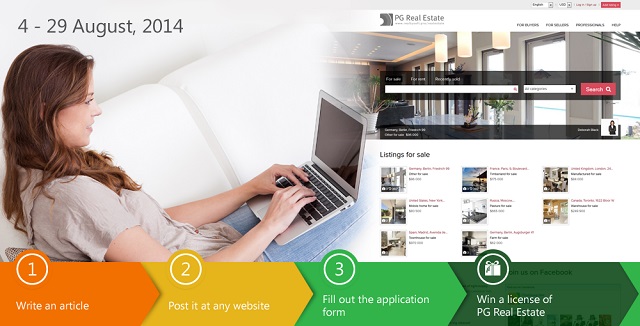 Dear friends,
Almost one year has passed since we announced the winners of our first contest which provided a wonderful opportunity to start a real estate site at NO COST.
We decided to continue the tradition and this month we start a new contest – "One day of my life".
Until 29 August 2014, write an article about one day of your life as a real estate professional and take your chance to win a ready-to-go real estate site!
In the article, you can describe your everyday tasks and activities, things that make you feel happy or drive you crazy, thoughts and ideas about optimization of your workflow or any other interesting sides of your work.
The winner receives 1 license of PG Real Estate, a turnkey real estate site with 100% open code – worth $799! As a standard customer you will also receive free installation and free technical support services.
The contest rules are easy:
1. Write an article;
2. Post it on any website or blog;
3. Apply for participation in the contest.