For years, online agent ratings have been a source of much angst in the real estate industry and agent rating sites are becoming ever more common under the pressure of consumer demand.
But at least one state Realtor association has decided to strike back by rating the rating sites themselves, based largely on how friendly they are to agents. The Pennsylvania Association of Realtors has devised a "report card" for 10 sites that offer agent ratings, scoring them based on answers to 10 questions, including who can post reviews, whether agents can respond to reviews, and whether agents can remove their profiles.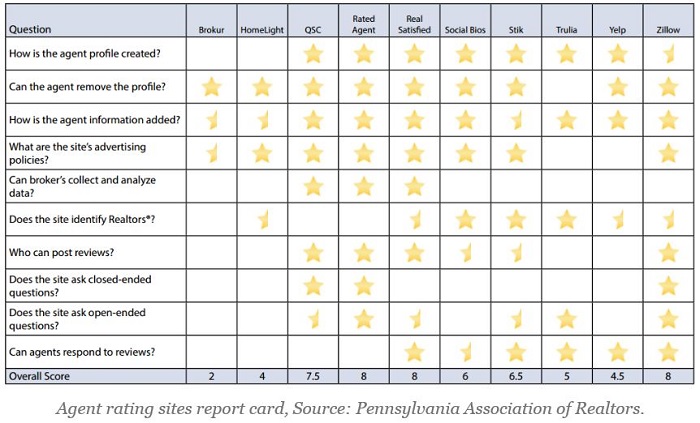 Sites can earn a star, for example, if agent profiles are created by agents, but only half a star if profiles are created by reviewers and no stars if the profiles are created by the site itself, with no user input.
If agents can remove their profiles, the rating site also gets a star. Sites are rewarded if they let agents respond to negative reviews and petition for their removal.
The questions do not delve into the much-debated value of using transaction statistics in agent rankings. Realtor.com last year tested a statistics-powered agent-ranking tool, AgentMatch, that drew protests from agents. The company says it will incorporate lessons learned from AgentMatch when it updates agent profile pages later this year to give users the ability to highlight their transaction data, team info and client recommendations to consumers.
PAR originally considered creating an agent review system of its own, assigning a task force to that end under the theory that agent ratings would lead to a higher overall level of professionalism, said Hank Lerner, PAR's director of professional practice, in a blog post.