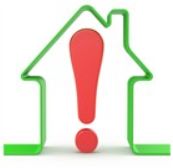 The Easter school holidays are traditionally a time when families make their first escape of the year and take a break from the world. It's also a time when scammers crawl out of the woodwork to try to part you from your money. Holiday rental ads are just one place they choose to do it.
With Easter only a couple of weeks away, now is a good time to reiterate the basic principles of being safe online. Also highlighting the way scammers use holiday rental ads to trick the unwary.
Be safe online
There are a few basic principles that protect you while online. You should know them already but in case you're not, they are:
•Never give away more personal information than you need to
•Never click links in emails unless you're sure of the sender
•Always use a credit card on purchases over £100
•If a deal looks too good to be true, it probably is
How scammers use holiday rental ads
Quite often, there is now way to tell a fake holiday rental ad from a real one. Most scammers tend to take real ads and modify them to suit their own nefarious goals. A typical fake holiday rental ad will look and sound legitimate because it was a real one.
Before sending money anywhere, you need to be sure of a few things.
•Ensure the letting or travel agent is legitimate
•If booking online, confirm booking directly and independently with the property owner before sending the deposit
•Sign the agreement before paying the deposit
•Be aware of hard sell or efforts to rush the deal through
•Only pay into a bank account with the company name or property owners name on it
Checking the source of the holiday rental ad is essential. If it has been placed by a letting agent or travel agent, call them to check it is actually their ad. Don't use the number on the ad, check in the phone book or online for their phone number and use that.
If it has been placed by the property owner, do the same thing. Also check the owner's name, the property name and do a search on both to check they are legitimate. TripAdvisor and other review sites should mention them if they have been in business a while.
Don't send any money until you have verified the legitimacy of the holiday rental ad and have seen the paperwork. Online bookings are slightly different as bookings and deposits happen at the same time. Pay this by credit card and you should be safe.
We hope you have a fantastic Easter. We also hope we have made your holiday slightly safer by offering these tips. Have a great holiday!