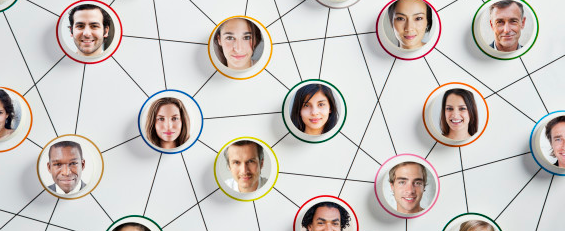 If you are a real estate agent but are not harnessing the power of social media, probably you do not realize the potential of social media. Social media can give your real estate business a wider platform to market your business and find plenty of prospective clients. It can be a great tool to drive traffic to your real estate website.
Social media can be simply defined as the online media sites like that are used for communication with each other. Some of the popular social media sites that can beneficial for real estate business include Facebook, LinkedIn, Twitter, YouTube, Pinterest and Google Plus. You do not need to pay anything to use these services that can be effectively used for engaging internet savvy clients.
Realtors who underestimate the potential of social media may think that using social media tools for real estate business is a waste of time. For those who think this way, statistics from the social media world can show how important is advertising and finds clients on social media sites:
- Facebook
Facebook has over 1 billion registered users. 60% are female users and 40% are male users. Out of 3 users, 2 users are age 28 or older. Every 20 minutes 1 million links are shared. Users create nearly 4 billion likes and comments every day.
- LinkedIn
LinkedIn has over 200 million users. 55% are female users. Two new users are registered every minute. 90% users are professionals belonging to age group 25 and above.
- Twitter
Twitter has nearly 600 million users. 93% users prefer to Retweet. 18 to 49 age category users are active on Twitter.
- YouTube
Each month YouTube receives over 1 billion unique visitors. 30 million visitors are men from age to 18 to 35 and 34.7 million visitors are women from 18 to 54 age. 750 videos are shared per minute.
- Pinterest
80% of the users are women. Each day users pin around 1.5 million places. 31.8% are male users and 68.2% are female users. Actively used by 25 to 44% age category.
- Google+
Has 540 million registered users onboard. 80% users login every day. 70% users are male and 30% are female users. +1 done by 5.5 billion times a day
More stats…
85% of real estate agents in US are using social media. Out of them 80% use Facebook, 48% use Twitter, 45% use Google+, 30% use LinkedIn, and 12% YouTube. About 73% homeowners prefer to add listings and videos of properties on social sites. 45% of potential home buyers come to view to real estate agents after watching a home online. 29% users prefer to use the internet to search for finding a real estate agent.
If you are going to build a real estate website using a real estate website software, you should be well aware of the necessities of using social media for your website and business. Here are some reasons as to how social media sites can help you succeed in your real estate business:
Advertising Tool
Social media sites can greatly help in advertising your real estate business. It can expose your business to potential clients and makes it easy to get in touch with them. Moreover, it helps in spreading your business even further as social media sites allow users to share information to their friends and acquaintances.
Building Reputation and Brand
Social media sites are effective tools for building a reputation for your real estate business. You can pose yourself as an expert in the industry in order to grab the attention of new clients. By providing quality and informational content through Facebook and Twitter, you can educate your readers and make them feel that you have expert knowledge and experience in real estate.
Divert customers to your listing and business site
Whenever you add new listings on your social media profile, the latest updates will be seen by your contacts. And when you share your business site link on those listings, customers will be driven to your website.
Active Clients
We can say that clients who make use of social media sites are quite active. Since they are active on those sites, probably they also access their social media accounts on PCs and mobile devices. They may not have the time to physically visit a location or receive a phone call but through social media sites you can reach them anytime and communicate with them.
Networking with other Realtors
In order to business in real estate, agents know it very well that need to maintain healthy professional relationship with other realtors. Hence, they give a lot of importance to networking. Social media sites like LinkedIn serve a very great platform to connect with other real estate professionals.
Now that you know the benefits of using social media tools for real estate business, we will share reviews on some of the most powerful social media tools like Facebook, Google+, Pinterest, Twitter in our forthcoming articles.