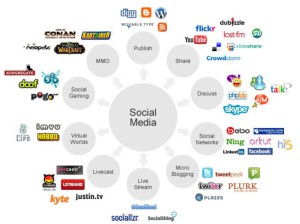 Social networks were started in 2003-2004 for personal communications. Their primary role was to co-operate people with similar interests online and provide them ability to express themselves. While MySpace, Facebook, YouTube, Twitter were made as associate finding solutions, LinkedIn has always been a hub for business connections establishment.
Besides, for last few years all these listed social networks were utilized by companies for their professional ends. For the first time they've reviewed these websites as a great platform for advertising, customer research and maintaining business contacts. Nowadays headhunters are actively using these communities when hiring young talents.
Researches show that in 2012 about 92% of USA companies used social networks and other social resources to close open positions, opposite to 78% in 2007. No doubts, most of businesses refer to LinkedIn to find employees (about 93%), about 66% use Facebook and 54% – Twitter. Besides, HR managers say that they are using social networks when looking for candidates on specific openings. The fact is that traditional php job board scripts that are utilized in almost all recruitment websites provide wider opportunities for applicants search, tracking and hiring. Moreover, a great amount of vacations still can't be found in social networks according to certain reasons. It is particularly topical to executive management staff, general staff and low-paid service employees. Recruiters refer to social networks to find talent students, industry experts, creative intellectuals in different areas, starting from medicine, continuing industrial, aircraft, IT and others. These communities are a great opportunity to find active and passive job seekers – these are employed professionals, who are not looking for a new job at the moment.
Using social networks, employer can estimate future employee from both professional and personal sides. Recruiters, who use social networks for background research, have refused one third of all applicants according to information they found in their public accounts. We are not talking about "Protected class information", such as applicants' gender, marital status here.
The main reasons of job applicants refusals are:
- Spelling mistakes and poor grammar, shown in user posts, articles and referrals
- Poor and uninformative personal accounts – recruiters say it's very strange when creative professionals don't publish their thoughts, news, opinions and comments in Twitter, LinkedIn and Facebook. The more one knows, the more he wants to share with others. When job applicants' pages are full of reviews, thoughts and messages the more competent this expert is.
- Lack of affiliations with industry professionals and companies. Employers also take into account applicants' interests and hobbies, what books they read, what news resources and meetings they are subscribed for.
- Wide descriptions of applicants' drinking and sexual habits. UK researches show that up to 75% of profiles contain photos in alcohol intoxication.
Companies, using social networks in recruitment purposes, exert every effort to success in creating positive image in the web. They all have informative corporate pages and wide affiliate network. The key rule here is to post news, photos, video files at least every 2-3 days. Let's review the most popular social networks and key promotional rules that drive these sources.
1. LinkedIn is a business oriented network. It uses strong job board software which is well suited for recruitment purposes. In order to find real professional, company should process a great work here: create a wide industrial network, get a lot of followers and provide useful content. LinkedIn provides detailed instructions on how to publish job vacancy attached to your company profile page: learn.linkedin.com/jobs/ . As this network is oriented on business communications, you will notice the fact that each of your open job vacancies will draw more applicants' resumes than Facebook or Twitter accounts can do. The key to success here is to join all your specific professional communities.
2. Facebook has millions of registered users all over wide. The communication flows here depends on the number of subscribed users, but not communities. Therefore your odds to find right employee to open vacancy here are proportional to the number of your company page followers. The more interesting your page content is the more subscribers you get. Plus, Facebook is another advertising space.
3. Twitter allows companies to publish short notes with job offers. Tweet My Jobs and Tweet Job Search are great applications for additional job vacancy promotion. This social network is a right place to find talented and interested professionals.
The basic marketing rule says: go where your customers are. Social networks are at their height today. Specialists and young talents from multiple industries communicate here. Recruiters say that here they can hire professionals they would never find using traditional resources.