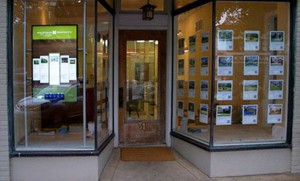 Interactive real estate storefront is the latest technology to hit the real estate world. Many real estate companies are now adopting this innovative technology to transform their typical storefront window into a digital touchscreen storefront that allows prospective clients to view and learn more information on properties that are of the highest interest to them.
ImageSurge's Interactive Real Estate Storefront
ImageSurge is a company that offers interactive real estate storefronts that come with an intuitive touchscreen powered with user-friendly software. ImageSurge's energy efficient double-pane touchscreen storefronts are a 24 x 7 lead generator that can detect audience at long distance and welcome them to search for desired property. The LCD screen offers crisp clarity even under direct sunlight. The sound produced by through-glass sound technology from ImageSurge is quite audible even at busy streets.
Captures Attention of Pedestrians
Creating a CMS website for real estate business is a good way to reach out to audience on the internet. However, if you wish your real business ought to reach out to a larger audience offline, you need to make the most of interactive real estate storefront. Using this new technology from ImageSurge, real estate companies can have personal interaction with potential property buyers. Interactive ads through ImageSurge's storefront can grab the attention of thousands of people who walk by them regularly and entice them to learn more about the property advertisement.
Interactive ads can generate direct response from people who view the property listings. It is a very good to create awareness of your real estate brand and let the customers know on the services and products your business offers. It can also help in saving on the expenses that you have to invest in printing a product catalog.
Search for Property Listings with Convenience
The best thing about an interactive real estate storefront is it lets a customer view personalized ads. For instance, a person at the digital real estate storefront will be able to search for the right apartment by refining his search by setting a price range and selecting number of bedrooms and bathroom. ImageSurge's street-side digital displays make it possible for pedestrians to search for property listings on the internet at any hour and connect with realtors.
Property buyers can also find out the location of a property that they are interested in by viewing maps. They can also view high quality images of the properties on the bright LCD display listed by property agents. Passersby who do not have enough time to view listings at the storefront can scan the QR codes using their smartphone and view and download the listing on the go and get in touch with an agent at any time.
Audience Engagement and Brand Popularity
The interactive real estate storefronts can be used by realtors to engage audience by not onlyshowing relevant property listings but also display information that can educate target customers. This can eventually help in building trust for the brand. Real estate agents can offer features on the interactive storefronts that can allow people to share property listings to their friends on social networking sites. This will help in popularizing the brand and make its listing reach wider audience.
Feedback and Market Relevancy
ImageSurge's real estate storefronts can also help realtors get quick feedback on the products and services they are offering. It will not only help in identifying potential markets but also understand their requirements. Feedback gained through storefronts can help realtors to make necessary changes in their business strategy and provide the appropriate products to the target audience.
Award Winning Technology
The winner of the Inman 2013 Innovator Awards, San Francisco, ImageSurge is the best realestate solution for your real estate business. The cutting edge technology from ImageSurge is just the right technology exclusively developed for real estate companies to capture the attention of potential customers.
Here is what we think that can help in boosting your real estate business. First, you need to build an online presence by creating a site using a real estate script and then you can rely on ImageSurge's interactive real estate storefront grab the attention of people offline.