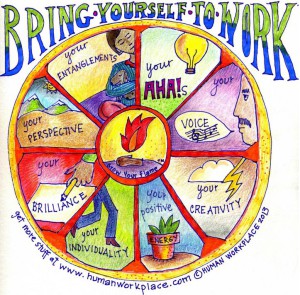 If there's one word that's almost certain to appear somewhere on every business's website, that word is talent. Companies of every size love to talk about talent! They can talk about talent all day long.
It's easy to talk about talent on a website or in a recruiting brochure. It's easy to say "We value talent more than anything!"
Talk is cheap. Attracting talented people into an organization and hanging onto them — now that's another story.
Most employers, sad to say, do a better job of driving talented people away than reeling them in, both during the selection process and after the talented person comes on board as a new employee. They don't do it intentionally, of course. They can't see how their systems, policies and attitudes frustrate and repel great people. It starts with the ugly and tedious, Black Hole processes by which new employees get hired.
Those Applicant Tracking Systems are horrible talent repellents, but most of their owners don't know they serve the same function as massive, barking, teeth-bared attack dogs at the gate.
Fearful people who believe they don't have any power in their job search will submit to those awful systems. Switched-on people with alternatives will quickly say "Yikes, I'm not sticking around here" and apply for a job somewhere else.
Once a newcomer starts the job, there are more talent repellents waiting. Some of them are cultural. Some of them are operational.
Here are our Top Ten favorite Talent Repellents — ten ways employers drive brilliant people away from their doors.
ZOMBIE-FIED JOB ADS
If your firm likes to talk about talent, first take a look at your company's job ads. Most job ads do a better job of explaining what the candidate must have than of selling the job to a possible applicant! If your job ads don't use a human voice and spend as much time selling the job as tossing around Essential Requirements, all the talent-talk is merely lip service.
BLACK HOLE RECRUITING PORTALS
If it takes a job-seeker an hour to complete all the mind-numbing fields in your Applicant Tracking System, the best people have already fled for greener pastures. If you're a Recruiting Director or a curious CEO, ask your ATS vendor what the abandonment rate is on your recruiting site. How many people, in other words, start the process and then drop out of it? There's your talent on the hoof, off to a friendlier welcome mat than you were able to lay out.
ROBOTIC COMMUNICATION
Once you start to communicate with applicants in the selection pipeline, what kinds of messages do you use? The evil Passive Voice type ("Your application has been received") is a surefire talent barrier. Why not say "Wow! Thanks for applying for a job with us. Give us a few days to look at our openings and your background. We'll back in touch, either way!" Then, actually close the loop. None of this mealy-mouthed "If we want to call you, we will" stuff meets the Human Workplace test. You can do better than that.