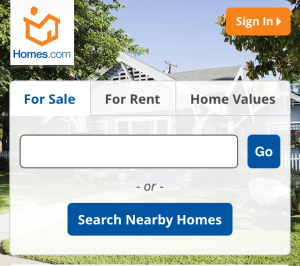 Homes.com is the fifth largest online real estate script company in US having its headquarters located in Norfolk, Virginia. At Homes.com, you can find all kinds of properties like condominium, multi-family, and apartments, on sale or rent. With three million listings at Homes.com, you are sure to find your dream home. Moreover, through its blog, Homes.com educates its users with the best of real estate tips and market trends to assist them in searching for the suitable home within the budget.
When you open Homes.com, the very first thing you will see is the 'Find Your Home' search bar which will auto-populate the search field with the name of the area where you are currently located. You can edit and enter the desired location name and from the drop-down menu you can choose from the appropriate options like Sale, Rent or Home Values. You can refine your search by going to Advance Options to choose the type of property, bedrooms, bathrooms, and price range.
For Home Buyers
Those who are interested in buying a home in US can access the dedicated 'For Sale' page. On it, you will find a search bar wherein you can enter the name of city, county, ZIP or MLS number and other things like property type, bathrooms and price range to search for a home to purchase in the desired location.
If you need assistance from a professional in buying your dream home, Homes.com will also let you search for the best local real estate agents. It even allows you to search for foreclosed homes for sale. Apart from this, you can search for homes in popular cities or by state.
For Renters
Those who are interested in renting a home in US can visit the exclusive 'For Rent' page. On it, you will find a search bar wherein you can enter relevant information such as name of city, zip code, property type, bathrooms and price range to search for a rental home in the desired location.
If you are unsure about the relocation costs, Homes.com will allow to learn the best options available for you. You can also find a professional real estate that will assist you in find the best homes at the desired place within your budget.
For Home Sellers
If you desire to sell your home, you should be pretty sure about the price at which you are going to advertise it at Homes.com. The Home Values page of Homes.com allows users to browse home values by state.
Before selling the property, homeowners may want to fix some issues with the property. For this, Homes.com offers a search feature that allows users to look for local professionals like real estate agents, mortgage providers, electricians, home inspector, insurance agents, interior designers, plumbers and so on.
Homes.com also has a dedicated blog that aims to educate on how to improve their homes before they put it on sale. The blog also has informative articles on renting and buying homes. When you list a property at Homes.com, in no time you will be contacted by potential buyers thanks to the huge amount of traffic it receives.
Other Features
Mortgage seekers can search for the latest mortgage rates, use mortgage calculator, search for mortgage providers and search for a service that helps in repairing your bad credit score. Homes.com has a very active Questions and Answers community where you will find information and resolutions for all your queries. Homes.com's blog has numerous highly informative articles for home buyers, renters, and home sellers. It also offers dedicated Homes.com mobile apps for Android and iOS users. 4KKEGB6KWQAB