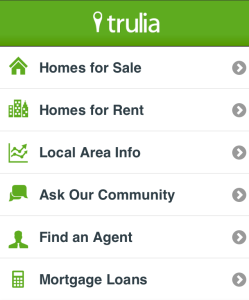 Trulia is an immensely popular online real estate website that allows users to sell, buy, and rent properties easily. The property listings at Trulia are supported with valuable information like neighborhood and community details. Trulia which was established in 2005 is based in San Francisco, California, US. As of 2011, it has an annual turnover of $38.5 million.
Trulia's website has a simple design that shows up a search bar at the top area of the site. Above the search bar, there are tabs like For Sale, For Rent, Sold, Estimates and Find an Agent that assists you in finding the exact property information that you are looking for. The Sold tab gives you information on different properties that were sold in certain area. The Estimates tab lets you know the most recent estimates by entering address in the search bar.
For Home Buyers and Renters
When you want to purchase a new home, Trulia will help you with detailed information on new homes, second-hand homes, open homes and foreclosures. For those who are looking forward to rent, Trulia offers listings of homes and apartments available for renting. You can refine the search by choosing the type of home, numbers of bathrooms, number of bedrooms, and price range. The search results will show listings with real photos of the properties.
Trulia also allows user to compare the prices of the homes in the same locality by entering ZIP code. Before you buy or rent a home in a particular area, you can learn about the crime rate in that area. Trulia in collaboration with CrimeReports.com, and SpotCrime.com provides latest information on criminal activity in a given area. Property searchers can get valuable information on local schools and basic services. Trulia's Commuter and Transmit maps services allow users to predict driving times from any area in US. The Mortgage on the website gives information on home loans, mortgage and refinance in any area of US.
For Home Sellers
For those who are interested in selling their properties, they can make use of the Estimates feature that will help in predicting the best value for the property. The Submit Listings feature is a free service to submit a property for sale or rent. It lets you add your property to Trulia's listing which will expose it to millions of home searchers. If there are people who are interested in your property, you will be instantly notified about it through email or SMS notification. The Stats & Trends feature at Trulia will let you know sales statistics and property market deals in any area of US.
For Real Estate Professionals
Trulia's paid advertising services like Trulia Pro, Local Ads and Mobile Ads are some of the tools that have been especially designed for real estate professionals. By using Trulia Pro, listings can be made to show up higher in search results. By using Local Ads, one can display property ads for a specific region by choosing a ZIP code or city. Mobile Ads can assist agents by capturing phone leads and calls.
Other Features
Trulia offers plenty of real estate information through its blog, community, Q&A section and Advice section. Trulia has couple of important tools onboard such as mortgage calculator, rent vs. buy calculator, rental market calculator, and browser plug-in, RSS, Map Search, Home Finder and Affordability Calculator. Lastly, it has got dedicated apps for iPhone, iPad, Android phone, Android tablet, and Kindle Fire. For those who do not own a smartphone, they can view Trulia's mobile-optimized website on their handset. 4KKEGB6KWQAB