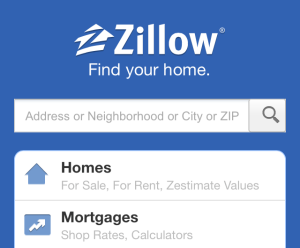 Founded in 2005, Zillow is one of the most sought after online real estate websites in US. Whether you want to purchase a home or rent an apartment, Zillow can provide you with plenty of available options. If you are finding it very difficult to find a desired property in your preferred locality, you can simply rely on Zillow as it can make house hunting an easier process. Zillow offers three valid reasons for using their service. Here are they:
- It has got over one million listings
- It gives you wider property options by listing foreclosure homes and pre-market properties.
- It provides the best estimates when it comes to finding the right value of any property.
Zillow's website has a simple and neat design. There is a search bar sitting right at the center of the site. It lets you search for properties that are on available for sale and rent. The Zestimate feature allows you to know the home value by entering any address.
For Home Buyers and Renters
You can search for rental apartments or houses on sale in any area and then you can filter the search with options like price, rooms and more. Zestimate will help you in fetching the latest home values. This tool can also be used for finding estimated monthly rental cost of a property. Comparables allows you to decide on a property by using comparing features like price, age of property and square foot area.
For those who are not able to decide on whether to purchase a home or rent an apartment, the Compare Rental vs. Mortgage Cost tool will let you make the right decision. Before buying or renting a home at any location, you can also learn about the availability of important services like schools, hospitals, etc in the same vicinity. Whenever a new property is listed that meets your requirements, users can receive email notifications.
For Home Sellers
The versatile Zestimate tool will let you predict the best value and comparables for your home that you would like to sell. Whether you want to put your property on sale or make it available for renting, you can list it for free on Zillow.com. Since Zillow is immensely popular, your property listing will surely be viewed by millions. The Zillow Special Offer features allow you to offer attractive deals to sell your home faster. The 'Make Me Move' feature allows you to pre-market a property without listing it officially. Zillow also allows you to search for a professional real estate agent to assist you in selling your property.
For Property Managers and Landlords
Apart from the above mentioned features, property managers and landlords can benefit from free tools like listing your property on every page on Zillow. You can turn your website into a mini real estate portal by making use of Zillow's API network. Property managers can also take advantage of the latest real estate market reports.
Other Features
Zillow has got a very active discussion board called Zillow Advice. It has couple of important real estate portal software like mortgage, refinance and affordability calculator. It also allows you to get information on current mortgage rates and home loans. Lastly, Zillow also offers mobile apps iDevices and Android smartphones and tablets. For those who do not own an iOS or Android device, they can visit Zillow's mobile optimized real estate website.