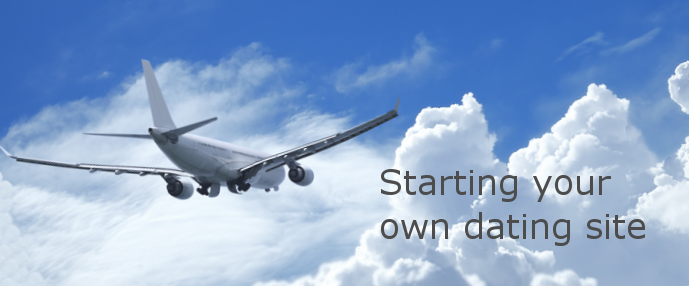 Seeing as the dating industry can be very profitable, it is only natural to wonder about the idea of starting a dating website on your own. So, how much does it cost to start a dating website?
Domain name
One of the first things to consider is the cost of domain name. A valid and memorable domain name is essential in establishing your brand and in building trust, making your site recognizable. There are many domain providers, for example GoDaddy.com, Web.com and others.
Prices can vary. The average cost of a domain name is $10/year.

Hosting
The next important topic is web hosting service. You will need it if you decide to go for a standalone independent website (see 'Platform' below). If you are going to use a white label/affiliate solution where you are offered free hosting, skip this section.
It is possible to obtain server space completely free, but do you really need it? Probably not. Free hosting comes with built-in advertising that you cannot turn off without payment. Some scripts and site features may not work because of that, and it just does not look good.
Starting from about $2-$9/month for server space, you can obtain your first hosting account that you can upgrade later by adding extra space, renting a dedicated server, using cloud storage and so on. Just make sure that the server supports all necessary system requirements for your selected platform.


Legal issues
You will likely need to have all legal issues covered. Whether you need to apply for some business license or register a firm to be able to run a website will depend on your particular area of residence. You may need to consult an attorney who would answer your questions and give advice. Consultation fees can go as high as $100 or more (depending on a number of factors).
If you plan on monetizing your site, think about the payment gateways that you are going to use to accept payments from members. You will need to create merchant accounts in online payment systems, personal accounts will not be enough. Creating a merchant account usually does not cost anything. It may take some time to have your details confirmed and approved, though.
Platform
If you are just about to take your first steps in the business, it might be wise to go for an affiliate programme or a white label solution where all that is required from you is promotion and bringing people to your website, which is given to you for free. You will basically only need to get a domain name for your site.
Taking part in a white label programme will also let you tap into a ready shared database of site users, which is a great relief as your site will not lack members from the very beginning. It will be easier to attract new members then. In this case, the cost of the software will be out of the question.
If you decide to go for independent software and your own database, there are plenty of solutions out there, both free and paid. The paid services start at about $99 per license. If you have enough skills to do the setup and necessary adjustments yourself, or your software vendor offers free technical support (which is rare, by the way), that is great. If not, you may require extra help from a programmer/designer. An hourly fee of $15-$25 is quite adequate for a freelance PHP developer and designer.
You may also wish to customize some features and the site design.
Creating and implementing a unique design template may cost up to $2,000 or more. That is why we suggest you take a look at ready templates that may cost $45-$75 plus the integration fee of around $400-$500. Some software vendors supply an assortment of design themes for their product as part of the package.
For functionality customization, the same rate of $15-$25 per hour may apply.
Marketing
After you launch your site, you start attracting audience. This is, of course, the most important and the most difficult thing to do as the competition is high.
And yet everything is doable if you are able to offer something appealing in terms of quality and user experience. Think about a niche that is unique or popular in your location/your area of expertise and start spreading the word.
There are numerous ways to make your site known.
1. There is contextual advertising where prices depend on how popular your particular search queries are. In the table below, we will show you some cost per click prices for certain relevant keywords:

2. You can create banners and have them cross-posted by taking part in banner exchange networks, for example, Romance-net whose banner exchange services will not cost you any money; you simply show others' ads in exchange for them showing yours and everybody benefits.
You can also contact other dating site owners or related content site owners and exchange banners with them personally.
3. Consider offline advertising. There are many ways to be creative here. Printing your logo on napkins and coffee mugs would cost $1-$2 per item depending on the order quantity.
4. Create content and post it in your blog (some pros and cons of running a blog). You could hire writers from services boards, such as Fiverr or freelance communities: Upwork, Freelancer, Outsourcely, and others. The good news is that Outsourcely offers 30% discount for all the plans to the readers of this blog. To receive your discount, apply the promo code staff30.
This option doesn't cost much and you can get a nice 500-words article for an average of $5. If you are good at writing, you will only need to invest your time and efforts, nothing else.
5. Posting on forums and commenting on others' posts with the aim of promoting your website is also free and will only require slight amount of creativity on your part.
6. Film a video about your dating site. It is the message that matters. You could basically just stand in a park or on a beach talking, or do an interview with people (friends and family, site members). Another option is ordering a video/animation and voice-over from Fiverr, where prices start from $45.
7. Consider investing into viral marketing to attract a critical mass of users to your site. This will likely be your largest object of expenditure along with paid advertising.
Don't shy away though; work hard and all your efforts will not go in vain. As always, we wish you good luck on your way to success.