December is always a great time to look back on the year that was and the new year that is soon to come. There are many exciting things that 2014 has in store for us who live, work, and produce the World Wide Web we love and cherish.
Last year, we looked at the 10 Web design trends for 2013. Many of the trends that were spotted last year are still around today and will undoubtedly take off into 2014. After all, that's why they are called trends and not fads, as trends tend to stick around for a few years while fads are only hot for a very short time.
So while 2014 is knocking on the door, let's look ahead and see what kind of new(ish) Web design trends we can look for and be inspired by come the new year.
1. Non-boring typography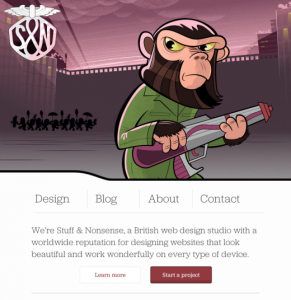 A typography-lover myself, it's great to see more designers experimenting with different types of type. One trend with type we can expect to see in 2014 is fonts with personality.
"Fonts with personality" are fonts that feel like they can stand on their own. They are not your standard serif or san-serif font (ahem, Helvetica). Designers are starting to find different fonts to add to their arsenal that add a little personality and uniqueness to their designs.
For instance, check out Stuff and Nonsense's new website design above. They could have used any old serif font, but they picked a beautiful serif font that keeps it professional but with a side of personality. We expect to see many more websites in 2014 getting away from very simple and overused typefaces and finding some with personality.
2. Flat design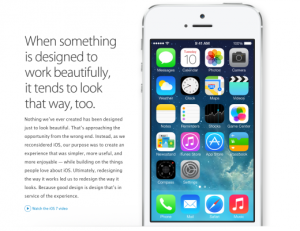 Oh Apple, how we love thee. Last year we said that more than likely, Apple was going to shake its Skeuomorphism, and boy did they ever. With the release of iOS7 came the design aesthetic most commonly known as "flat design." While dropping drop shadows and gradients often seems like a good idea in some cases to give a more updated look to things, Apple took it to a whole other level by dropping pretty much any design element it could.
Apple has for a long time been a trendsetter, and what Apple does, the rest of the world seems to follow. iOS7 has been out for a while and already there are a flood of sites coming online every day with new "flat" designs. We don't anticipate this trend ending in 2014.
3. Large hero areas quickly killing sliders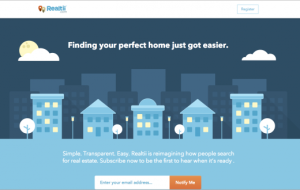 If you asked us what is the number 1 trend in Web design today, this would be it.
Large hero areas (the "intro" area, often an image with a little amount of text, at the top of a website – a borrowed term from print design) on website home pages are running rampant (for example, most of the sites featured in Line25′s "Sites of the Week" weekly posts) – and it is a trend we don't see going away either in 2014. They are quickly taking over real estate on websites where sliders used to reside (until proven that they don't work).
Either it be a simple blurred photo in the background with a heading centered in the middle, or a more elaborate one such as the illustrated hero area in the Realtii.com site above, hero areas are quickly replacing sliders as the new attention-grabbers, and they are becoming increasingly creative and elaborate.