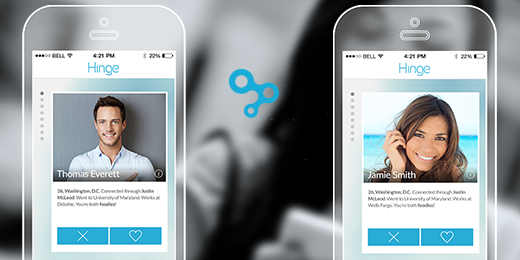 Mobile dating app Hinge makes "real connections" by using members' Facebook friends as personal Cupids.
"It's hard to find good people. Really hard," said co-founder Justin McLeod. "Hinge is a nice balance between ease of use and finding real connections without being weird or creepy."
Hinge started as a dating web site in 2012 but made the switch to mobile-only and relaunched this year. The largest set of Washington area users are in their late 20s and early 30s. "At first, we were targeting a younger demographic, people right out of college, but found that our users were older," McLeod said.
Hinge — which is focusing on daters in Washington, New York, Boston and Philadelphia for now — culls each user's name, age, recent photos and "likes" from Facebook to automatically create a profile on the app. A series of recent upgrades gives users the option of adding height, religion and "personality tags." These tags — descriptors that users select from a list that includes "Zombie Survivalist," "Conflicted Omnivore" and "Lawn Game Champion" — allow some wit to show without too much pressure to be creative.
"We want people to use it to have great relevant conversations on their dates, and now the introductions and the personality tags help," said Sophie Vinograd, lead copywriter/community manager.
Using that data, Hinge sends users a set of five to seven potential matches every day at noon. They respond by rating each of them with a "heart" or an "X." When two users give each other hearts, they get an introduction — an exchange of data that reveals both users' jobs, suggests things they have in common, and offers suggestions for local restaurants and activities curated by Hinge employees.
In a survey of Washington and New York users, 54 percent said they have "found someone" through the app.