Many of us have become sophisticated in the use of internet technologies over the last few years. Most of spare time activities have moved online – communication, learning, games, shopping, etc. However, when there is a need to establish a presence of our businesses online, we get lost and don't know where to start. Words like 'software', 'php', 'SEO' and 'hosting' seem a Chinese puzzle.
With a varietly of options available today, the easiest way to open a site of a real estate agency is to use a turnkey real estate script.
PG Real Estate is a perfect solution for this purpose as all questions connected with your website launch and growth can be solved in one place by the company.
Let me demonstrate it to you on the basis of PG Real Estate script provided by PilotGroup.Net. Login to administration panel and do a few simple changes to get a typical site of a real estate agency.
1. Switch off guest registration and login.
Default settings allow site guests to create a profile of a private person, agent or agency. You do not need guest registrations and logins, right?
To switch off these options, go to 'Users' > 'Settings' tab and uncheck "Login available" and "Registration available" next to the necessary types of users.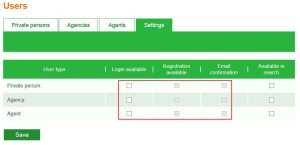 2. Disable 'For buy' and 'For lease' types of operations
4 types of operations are available on the website by default – for sale, for buy, for rent and for lease. However, a website of a real estate agency usually represents a base of properties for sale and rent. To disable the other 2 types of operation, go to 'System' > 'General settings' > 'Listings' and remove ticks next to 'For buy' and 'For lease'.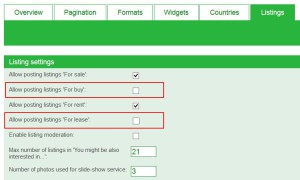 Now open 'Listings' section and remove all listings with unnecessary types of operation.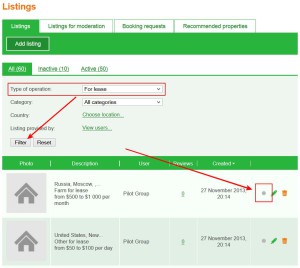 3. Add company contact details to the top of the site
Your company contact details are very important. Site top is the most noticeable location. You can add 'Contacts' information page to the top menu or display your contact details instead. Either way, go to 'Interface' > 'Menus' and edit 'User mode – main menu for guests'.
In this section you can also edit all site menus to your requirements – e.g. remove 'Professionals' section if necessary.

4. Disable moderation of listings and uploads
It's expected that all listings at a site of a real estate agency are added by agents or administrator. It means you will not nee moderation of listings and uploads supported by PG Real Estate. You should disable 2 default settings:
- 'System' > 'General settings' > 'Listings' section > choose 'No' next to 'Enable listing moderation';
- 'Moderation' > 'Moderation settings' > disable moderation of all uploads.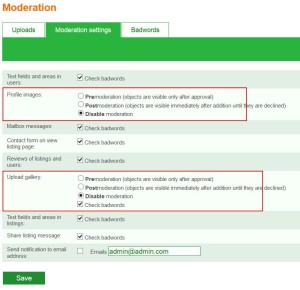 5. Turn off paid services
Paid services are mostly used to monetize real estate portals. You will have a difference business model. This is why go to 'Payments' > 'Paid services' and turn off all services at your site.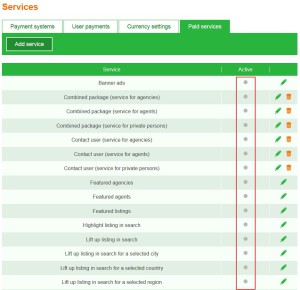 Here is the result of our modifications: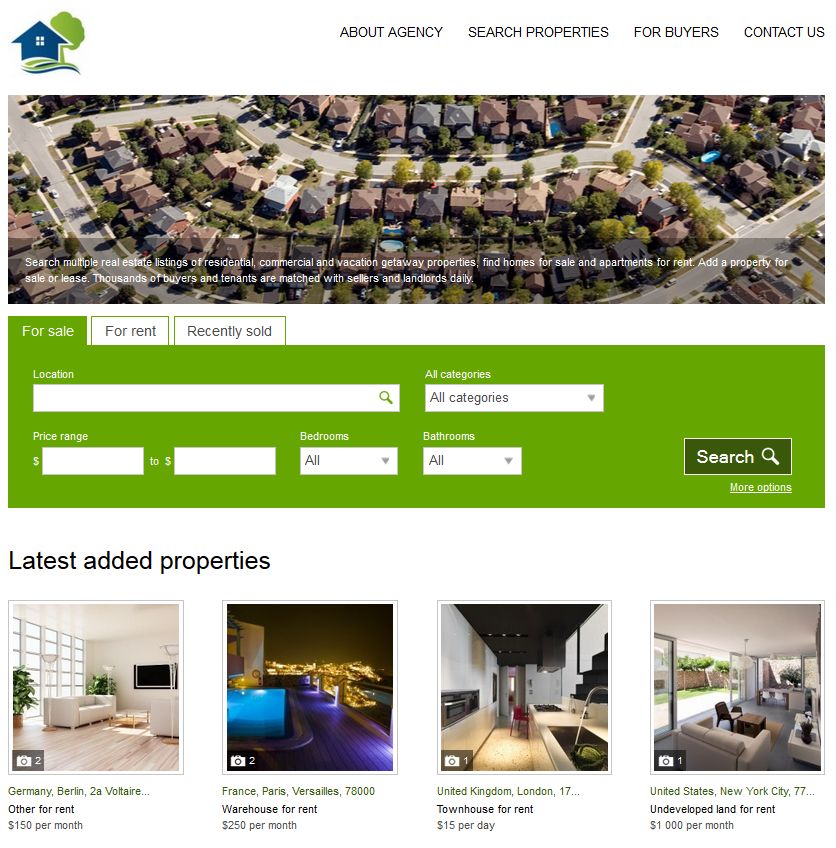 In this article we have described basic changes that can be done in the administration panel. Follow our news to learn about other features supported by PG Real Estate.