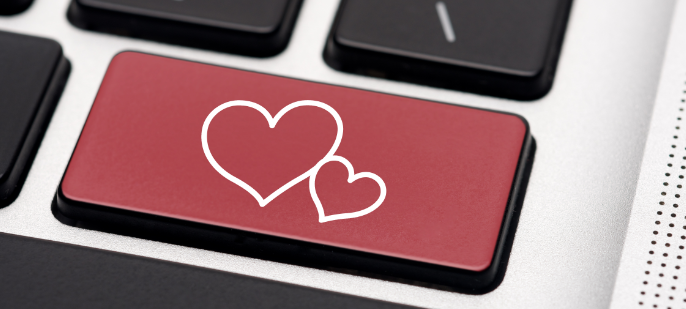 Today we would like to give you some tips on how you can create a site map for your dating site.
What's a site map?
A site map is a list of your website pages available to your site visitors or to search engine crawlers. It can be either a document that you upload onto the server or a webpage that everyone can see. The two have different purposes.
Site map for site visitors
One cannot overestimate the importance of the convenient site navigation. It is what people pay closest attention to after they have taken in the site color scheme and pictures.
When main menu and bottom menu is not enough and one would wish to explore the site options, this is where a site map comes in handy.
In Dating Pro, a site map for site visitors is already part of the product:

You as site administrator can choose to display quick links to search results by location (city, region/state, country) or user type (men, women):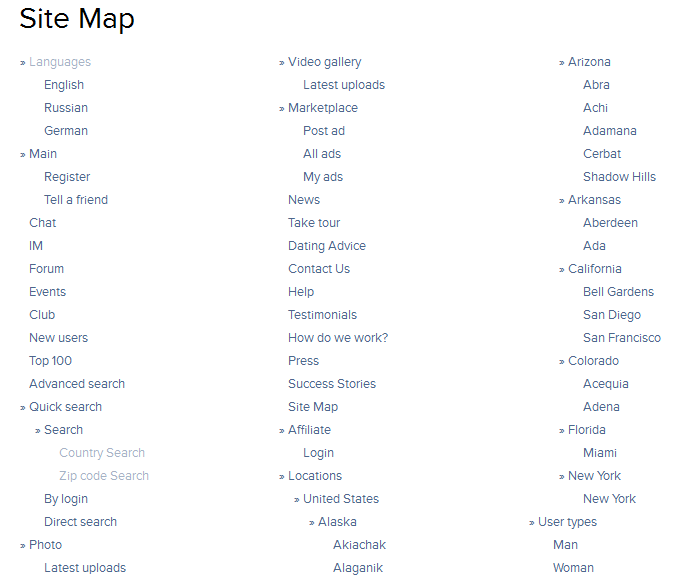 Every important site section from the user mode is available. Site guests (=unauthorized users) see a different version of the site map as compared to what authorized members can see: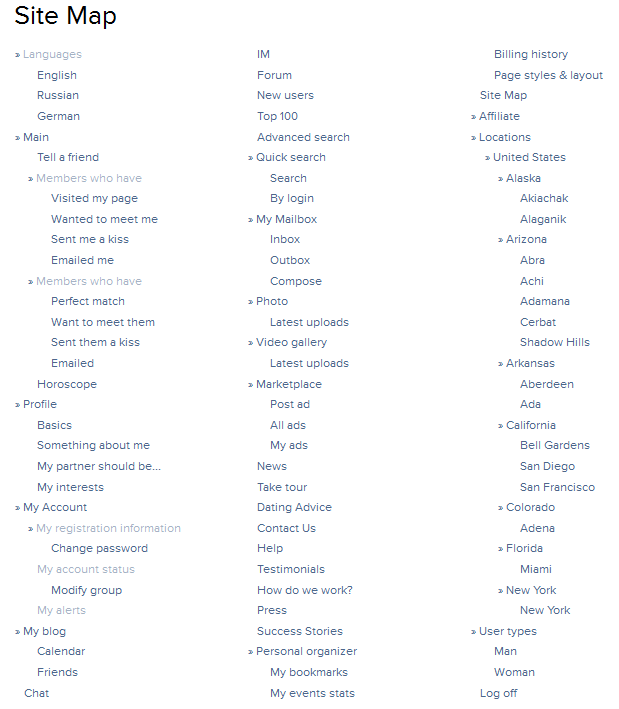 XML site map
XML is one of the most popular formats for site map. It has first been introduced by Google.
Generally, an XML site map is a list of URLs from your website. It lets you include additional information about each URL such as the date it was last updated, its priority or how important it is, and even metadata on certain content types.
Example of XML site map: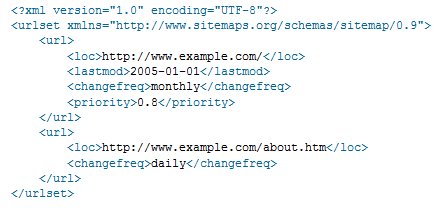 Dating CMS websites have a large number of dynamic pages that are only available through the use of forms and user entries. Site map file contains URLs to these pages which makes it possible for web crawlers to learn about them and to find them.
Use of site map does not guarantee that all links will be crawled and indexed though. Anyway, a site map is still the best way of getting a search engine to learn about your entire site.
Every important search engine, such as Google, Yahoo, and Bing, supports the Site Maps Protocol. The idea is that you have your site map created and upload it to the search engine to kind of "invite" it to visit your website and collect the information about it.
In Dating Pro, an XML site map is also generated automatically, by cron. You can run cron file /admin/admin_cron_google_sitemap.php at a convenient time and frequency. The site map will become available in the site root.
If you would like to renew it or replace with your own, the following tools might be of help:
http://www.xml-sitemaps.com/
http://www.web-site-map.com/
Make sure to watch out for broken links and check for the correct XML file format as the rules are very strict and no errors will be tolerated. Following services help check the syntax of documents:
http://validator.w3.org/
http://www.w3schools.com/xml/xml_validator.asp
More useful information: https://support.google.com/webmasters/answer/156184
Contact us if you have any questions or ideas.