There is a variety of options for starting a job site nowadays: free projects, paid themes for free projects, paid ready-to-go solutions. The latter (turnkey solutions) can be extremely useful for a small-to-medium sized company.
PG Job Site Pro is a ready-to-go job board script. Depending on a business idea this job script can be used as a job portal, niche job board, site of a recruiting agency, job directory built into existing site of a company.
Starting a job portal with PG Job Site Pro is easy and exciting. You are offered lots of options and tools.
1. Color schemes
Think about site colors that will not only match your brand but will appeal to your target audience as well. Choose colors that represent the emotions that your brand intends to elicit. Find more details here.
PG Job Site Pro provides an option of changing site colors with minimal effort. See for yourself. In the administration panel go to 'Interface' > 'Color themes' > choose 'User interface' tab and click 'View color themes' icon. You'll see a number of pre-installed color themes. If none of these themes suits you, press 'Add theme' button to create your own color set. As you see you can change fonts and colors here manually or with the help of the script. Using just one main color the job script generates a color set for the whole site. The color of site icons will be changed automatically as well.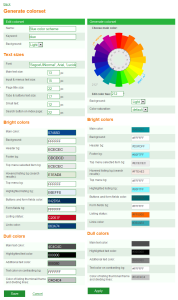 No programming skills are required from you. Your site look and feel may be changed at a click of a mouse!
2. Dynamic blocks
By now you surely have a clear idea of what sections and info blocks you would like to see on the front page of your job portal. Should it be a welcome message for site guests, an image to illustrate what you do, a flash introduction, latest resumes or vacancies, vacancies sorted by job categories or featured employers, all these sections can be added through administration panel of PG Job Site Pro script.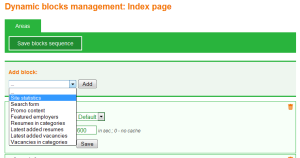 3. A wide range of fee-based services
There are various way to monetize your job portal. Many portals prefer to offer free access with extra services. This is due to the fact that you can build up your database rather quickly. PG Job Site Pro provides a wide range of paid services: publication of resumes and vacancies, contact employer and jobseeker, lift up resume and vacancy in search, apply for a job, banner ads. You can enable any service and set it up per your requirements.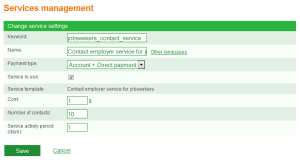 4. Social networking tools
Social media is an excellent tool for building a community around your job portal. Here are the tools supported by the job script: login, share, like and comment with Facebook, LinkedIn, Twitter, Google+ and Vkontakte accounts. All you need to do is to get a key from the social network to enable a social widget.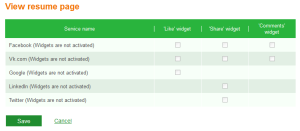 5. Site texts
It's very important to work with site texts to convey your idea and emotions to the intended audience. With PG Job Site Pro you can re-build site menus, add new languages, edit job categories, customize fields in resume form, post articles, edit any word or phrase on the site.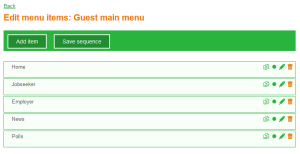 What I described above is a small part of features supported by the job script. You will find the description of other features in our next articles.