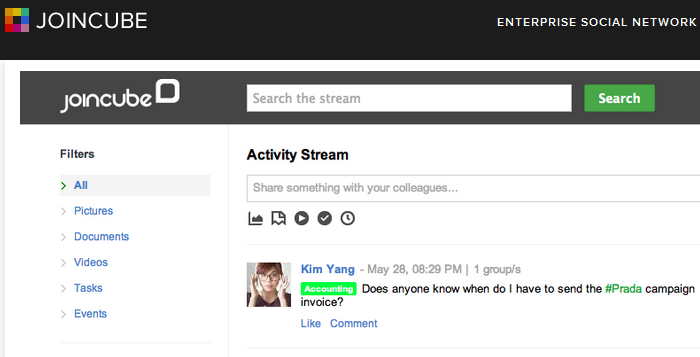 Mariano Rodriguez, the 30-year-old CEO of Joincube, is on a mission: to banish the endless reply-all work email chain forever.
To replace that unwieldy relic of the early internet age, Joincube offers small companies in Latin America a private, internal social media network customized for workplace communication and collaboration. It has a lofty, singular goal: "Replace email entirely in the next three years," Rodriguez says.
Headquartered in Rodriguez's native Buenos Aires, Joincube seeks to harness social media for productivity instead of procrastination. The company combines some of the efficiencies of cloud computing with the ease of social, offering co-workers a common platform to ping, interact, and discuss. The idea, Rodriguez explains, is to replace what he calls "transactional" communication—email sent, email answered—with "dynamic" communication.
On the site—which looks like a cross between Facebook and Google+ and is accessible via computer or mobile device—colleagues can revise, edit and update documents and chat in real time across hierarchies, sectors, and geographies. It offers project administration and task management for workflow tracking. It borrows from gaming, using points and badges for employee achievements.
There's a huge opportunity in small and medium-sized businesses in emerging markets, says Joincube's American chief operating officer, 26-year-old Spencer Coon. That target group in Latin America alone includes more than 5 million companies, with a potential market size of $1.2 billion by 2018, Coon says. Joincube says it currently has more than 7,500 users and about 1,300 organizations in the region on board, adding about 200 companies per month.
The idea for Joincube was born in 2009 when Rodriguez was heading up his first tech company, Factor IT. With employees spread across different offices, he wanted a better system for communication than email and instant messaging. With that need, Rodriguez saw the potential for a new product, so he sold off his shares in his first company and focused on launching Joincube.