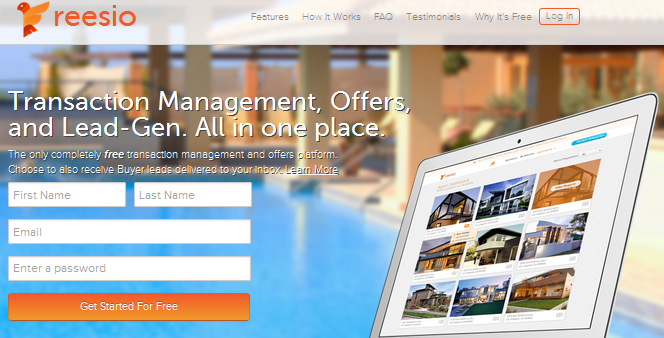 San Francisco-based real estate startup Reesio has closed on $1.096 million in new funding for its transaction management software for real estate agents.
Reesio first launched in April of this year. During the company's participation in the 500 Startups accelerator program this year, co-founder and CEO Mark Thomas and his team found that by processing the transactions on its platform, they were accumulating listing and property data in real-time. Then, in comparing that transactional data to large portals like Zillow, Trulia and Realtor.com, they found that Reesio's data was more current and more accurate, leading them to realize that they might have something even more valuable on their hands.
Thomas claims that as much as half the data on the search portals was inaccurate for a variety of reasons  - it wasn't being updated in a timely fashion, as MLS systems were protecting their data against scrapers, for example. He says that the portals would not have the current, correct status of a property (contract, pending sold, etc.), the right listing price, or the right property data, like number of beds, baths or square footage, in a number of cases.
The problem lies with how the large portals are collecting this data. They syndicate listings from the 900 MLS's across the U.S. and pull in public record data. And the MLS systems themselves receive their data by manual input from real estate agents – and sometimes, it's never input at all. Y4NGMNX7AEEM
Reesio's solution is to bring the transactions online, in a modern web-based system designed for brokers, transaction coordinators, and agents. The platform includes support for workflow templates that help agents to follow through with each step in the transaction process – a process which, traditionally, includes a large stack of printed paperwork. Instead of having to print out copies for everyone to sign, Reesio integrates DocuSign into its product so users can upload, share and sign all the files. The online file system also doesn't have a storage limit like other cloud storage companies do – such as Dropbox, a service that's fairly popular among agents today.
The platform itself is clean and simple in its design, which makes it easy for the sometimes less-tech savvy realtors to use, as well as the brokers who track their transactions. There's a social element to it, too, with member profiles, an Activity feed, and an invite system that allows users to reach out to clients, other agents an third-party vendors to get them online.