During my career as a software developer and manager, I have been involved in many interviews. Whether the interviewer or interviewee, I have always paid special attention to the interview process.
In my current role, I spend a lot of time interviewing potential employees, so I've seen my fair share of good and bad interviews. Some candidates stand out from the crowd immediately, while others are just another face in a million. In this article, I'll give you a few tips and a head start on your next interview. Whether your next interview is your first or twenty-first, hopefully these tips will help you along the way.
Interviews can be scary, especially when you attend your first few or haven't attended any for a while. Preparation is the key to success and can take the stress out of the dreaded process. You can do a few things before even walking through the door. If you are prepared and your mind is ready, then the whole process should be a breeze. I like to break the interview process into three steps: preparation, interview and post-interview.
Preparation
This is the most important stage in the process and could determine whether you appeal to the recruiter. A CV won't even make it past the review stage if it doesn't meet certain criteria, but by preparing beforehand, you can maximize your chances of making it to the interview stage.
Update Your CV
Spend time creating a great CV. Some great templates are on Guardian Jobs. If you have never created a CV, try to mirror the layouts of some of the people who inspire you. I drew some inspiration from both Scott Hanselman and Paul Irish. For example, Paul's CV contains testimonials from other popular developers in the community, and Scott's CV contains highlights from his presentations, qualifications and open-source contributions. You might not have the same experience or work history as the people who inspire you, but you can always get new ideas from their CVs. Who are the leaders in your field?
I follow a few rules when creating a CV:
• Don't lie.
Never claim anything on your CV that you can't do, because if an employer questions you and you don't have the answers, you could lose the job and look like a fool in the process.
• Steer clear of buzzwords.
I have noticed a trend of candidates adding a load of buzzwords to their CVs to help recruitment agents find them. Only add a skill if you have used it before and feel competent enough to answer questions about it. Also, steer clear of buzzwords such as "dynamic," "synergy" and "creative."
• Have your CV reviewed.
Get your mother, sibling or friend to review your CV before submitting it. The extra pair of eyes might spot a few areas for improvement and help you finely hone the document into the perfect CV. Remember that your CV is the first point of contact before you walk in the door. You may be the greatest programmer in the world, but if your CV isn't up to snuff, no one will want to interview you!
• Spellcheck.
And then spellcheck again!
Put Your CV Online
If you haven't done so, create a LinkedIn profile. It's a great way to get your profile out there and to get potential employers looking at your CV. Simply upload a copy of the CV that you created earlier, and, with a little tweaking, LinkedIn will format it for you. I often use LinkedIn to see whether a candidate knows someone I know or have worked with in the past. Professional connections are a good indication of a person's working background. You might have a friend who works at the company — a referral always helps.
Another great website for developers is StackOverflow's Careers 2.0.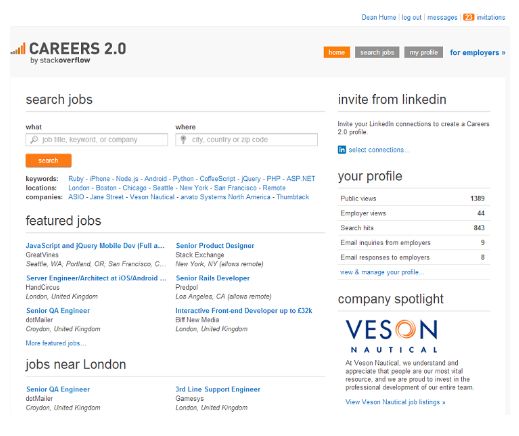 Much like LinkedIn, Careers 2.0 lets you post your CV, but it is more developer-focused, allowing you to link to your open-source projects and any technical books you may be reading. Once you have created your online profile, both LinkedIn and StackOverflow will let you export a PDF of your profile, which could serve as a CV. So, if you like the format and layout, simply download and use it for your next job application.