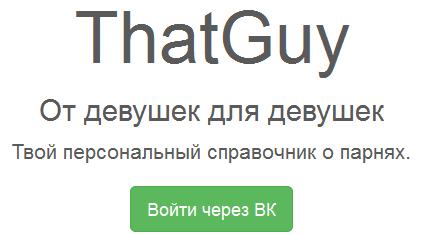 ThatGuy is a gossip network, a directory of guys that only girls can access in order to post facts about their male friends and acquaintances and rate them. Questions vary depending from their relations to a guy – an ex-girlfriend and a sister will answer different questions.
The maker of ThatGuy service also runs Yumixo dating startup, and it is the shortage of a female audience at Yumixo that brought him to this idea.
Lulu-format has a great potential in that most girls like talking about guys. ThatGuy can complement a regular dating website by not only aggregating a female audience but by collecting a database of the best guys around. It could actually become an independent project with its own monetization scheme.
This is how men are forbidden access to the service.
At Lulu:
-Login with Facebook
-Gender check (with Facebook data)
-Minimum of 50 Facebook friends
At ThatGuy:
-Login with VK.com (the most popular social network in Russia; Facebook login coming soon)
-Gender check
-Minimum of 50 friends
-Gender switch check (if a guy gets into the database once, he is remembered as such and all further temporary changes are dismissed)
Plans are to develop premium search functionality by filtering guys into 'the cleverest', 'the most ambitious', 'the funniest' and so on. 'Gamification approach' is to build a system of credits and grant them for money, invites, and reviews. One will be able to spend credits for access to detailed reviews and VIP functionality.