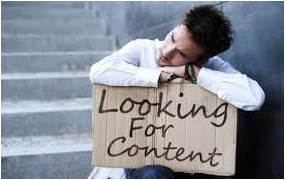 Shreyas Mulgund talks about the importance of content in SEO activities. Content is King!
Is it possible to generate great unique content every time?
1) Grab on to the 'comments' section
Your existing articles can themselves become a source of inspiration for you to start writing upon a new topic. When people comment on your content, it's their way of engaging with you or your brand and this in itself opens a lot of doors in terms of content opportunities. Browse through the comments you have received for your existing articles. People might have asked questions, the answers to which may lie in your next article. There is also a possibility that some comment might actually trigger off a different discussion which can again be transferred into another article.
2) Customer or expert reviews success mantra
One sure way to succeed is by catering to your customers' needs. You can always ask your customers or industry experts to review any of your products. The ultimate sales process from cold calling to direct customer acquisition becomes easy when a product is already reviewed by experts, thereby leading to faster purchases. With the advent of social media, reviews of people in your circle seem to be all the more important. Inviting your customers to review your product would also help in grabbing eyeballs effectively!
3) Facebook likes
This is one of the best ways to know what your audience is looking for. Just check your Facebook posts and see which ones have received the maximum likes or comments. This is a direct way in which you can cater to the needs and preferences of your end consumers. This exercise helps you understand your audience and their interests. Once you tap into the interest of your target audience, you can simply write enhanced posts on topics they like. As the topics would be of the customers interest itself, there is little that can stop it from going viral!
4) LinkedIn
Join groups related to your domain. A lot of discussions that take place on such groups can be a great source of inspiration for your next article. Some discussions might also heat up to debates. Picking up any such controversial topics can also stir up new content.
5) Quora and Yahoo Answers
Question and answer forums like Quora or Yahoo answers can give you a lot of opportunities to build content for your website. Since people are looking out for answers to their questions, what better way than you assisting them with expert advice?