In the first part of this article we have discussed Dating Pro functionality in terms of how a site owner can get into (in)direct contact with their site members and visitors.
You could learn about site images, banners, individual contact options such as notification to registration email or site email, and account alerts. Today we continue the topic with more details.
4. Profile builder
Profile builder is a nice way to get to know your site members as you can ask them any types of questions, first during sign up process, and later on as additional questions in the profile section. Create your own questions, suggest answers or let people type them in. Combine questions into various steps.
With this information, you will not only be able to match people together but will also find key points about them for future reference.

5. SEO settings
Message conveyed with metatags – page title and keywords – will be visible in search engine results pages and while a person is browsing your dating site.
Human-friendly SEO links are also used to tell people more about the purpose of  this or that particular page. For example, www.domain.com/singles-around-the-world/ sounds better than just a page ID.
6. Site status – warning page
Warning page will appear if you need to give your site visitors a choice of whether they want to proceed to view site pages or not. With the built-in WYSIWYG editor you can post images and add explanation- as much text as you need.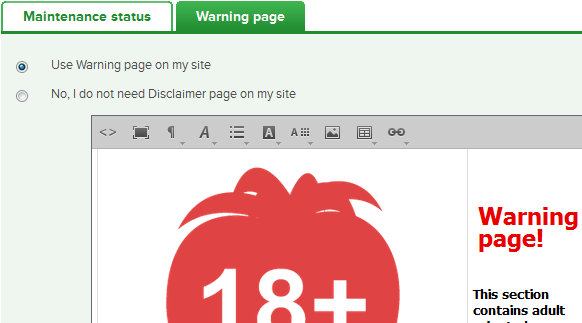 To be continued…
Next time we will talk about site texts, polling, mass mailing options.