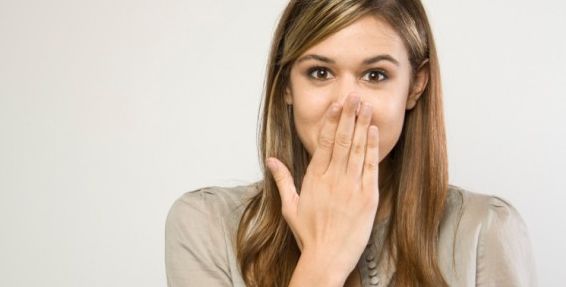 I once read an MLS property description that read simply: "This place is a mess!" The photos proved the agent's point, though the uber-low list price compensated for the near-condemnable condition of the property.
Few things in our industry give agents as good a laugh as an egregious online property listing. Here are some bloopers and foul-ups that still crop up regularly. Note to self – don't do the following:
1. Unfortunate photos.
Just because your phone has a camera doesn't mean you should use it to take your listing photos. Seriously. Not all mobile phones are made equal.
While some may take listing-ready pics, many, many phones have resolution or lighting issues that produce low-quality, low-resolution images. Even if you outsource your photos, make sure you actually view them, versus letting your photographer or a team member handle this uber-essential step. I've seen agents pay for MLS photos that were clearly taken on trash day, because the dumpster was squarely blocking the home's exterior.
Other listing photo blunders that are still surprisingly common include: poor photo selection, photo fraud (see #2, below) and failure to upload (see #3, below). It's essential that you ensure there are photos of all the major features buyers use to screen properties in and out of their 'must-view' list. This includes the kitchen (and appliances), bathrooms and the frequently neglected front and back yards.
2. Failure to launch upload.
The web is a highly visual medium, and also happens to be virtually every buyer's house hunt starting point. In fact, today's buyers' brains cannot even process listings without pictures. I mean, they literally won't even click on them.
I'd guess that most of the listings I see with no photos online at all are due to some sort of glitch in a team's workflow. Maybe one assistant thought someone else was uploading the images, or someone started to upload them but got distracted by an incoming client call and forgot to click save. Marketing assistants can be life-savers. But this is YOUR business, and your role is to delegate, not totally abdicate all responsibility for your listings.
Even the most professional team needs diligent oversight. When it comes to listings and photos, the best practice is to double-check every listing as it appears on your local MLS system, on Trulia, and on every other online site you've promised sellers you use in your marketing. You can't afford to have even one interested, qualified buyer scroll past your listing because it registers ZERO images.
3. Flat-out fraud.
One (in)famous TV agent was recently fired and investigated by law enforcement when his franchise's HQ found out that he'd been boldly photoshopping hardwood floors, marble counters and bookshelves into an otherwise unlovely home. While you might not be tempted to go this far, there are hundreds of listings online featuring photos with a remarkable disconnect between the space and proportions displayed online, and those you see when you get into the house.
Photo manipulations? Fraud? Don't be tempted.
4. Fluffery.
Much more common than fraud is the phenomenon of "fluffery." Fluffery is using adjectives to fill out your word count and make a place sound slightly better than it truly is in an effort to just get people in the door. Here's the real deal: there's someone for every home, and a home for every type of person. And you can't trick someone into buying a home. They will see it before they buy, and you run the risk of irritating buyers and buyer's brokers if you develop a pattern of posting misleading or overly fluffed listings.
Instead, aim for highlighting the home's best features and accurately representing the totality of the property in your listings, with the goal of helping the buyer that's looking for just those features find their way home