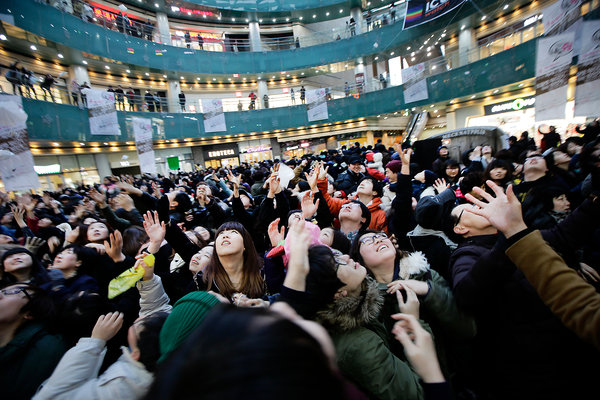 In South Korea, fretful about plummeting birthrates but still tied to conservative ideas about matchmaking, solving the difficulties of the lovelorn has become something of a national priority. Dozens of dating parties are held nationwide sponsored by an unlikely matchmaker, the government.
In a country where arranged courtships are fading into the past, the Ministry of Health and Welfare began promoting the idea of dating parties in 2010. Under the enthusiastic leadership of its minister at the time, Cheon Jae-hee, it held four parties that year that brought together its workers and employees at local corporations — making a splash in the news media. Ms. Cheon officiated at the wedding of the first couple who met at one. Featured in a magazine article before the wedding, the 31-year-old groom-to-be thanked the government profusely and wondered if two children would be enough to meet expectations.
Since then, sponsorship of the parties has shifted mainly to ministry affiliates and local governments, which can win financial rewards for activities that promote marriage and childbirth.
Government officials are not the only ones trying to replace the traditional matchmakers that many young people consider increasingly old-fashioned. Corporations, fearing critical shortages of workers in an aging society, have begun ending informal bans against office romances, with some now paying for dating services for their workers. College students have leapt online to set up mass dating events, including a much-publicized flash-mob blind date last winter in downtown Seoul. And entrepreneurs have opened bars where waiters serve as informal go-betweens.
There are online dating services as well, but many young Koreans remain uncomfortable searching for a partner on their own. Most prefer to rely on the companies to take their information and make the match for them.
So far, though, the results of these efforts have been mixed. Korean society is organized around group affiliations — hometown ties and school and corporate friendships — so meeting a potential spouse without formal introductions to merit family approval has proved difficult, even for those enamored with the concept.
"I usually date girls I get set up with by my friends, but tonight I came to this party to find someone naturally," said Yang Sung-mo, 29, who tucked a dapper purple handkerchief into his blazer pocket to attend a bar event for singles. "Still, I doubt it's going to work unless I am introduced."
Until the 1980s, young people relied on matchmakers and family connections to find spouses, sociologists say. With so many people living in ancestral villages, it was easy for parents to find good matches for their children. Among the criteria considered: family status and birth dates checked by fortune tellers for compatibility.
Those practices waned as industrialization started an exodus to South Korean cities. Far from traditional networks, families turned to a growing number of dating services that performed background checks. And young people turned to friends whose role is taken seriously enough that they receive gifts at weddings. (Standard thank you presents include tailored suits and cash.)
But in recent years, urban youth exposed to the West begun to complain that even the less formal blind dates set up by friends were stressful.
The heart of the problem, local officials and others say, is that South Koreans have gotten ahead of themselves. As the country modernizes rapidly, many of its urban youth are chafing not only at arranged courtships but also at dates arranged by friends.