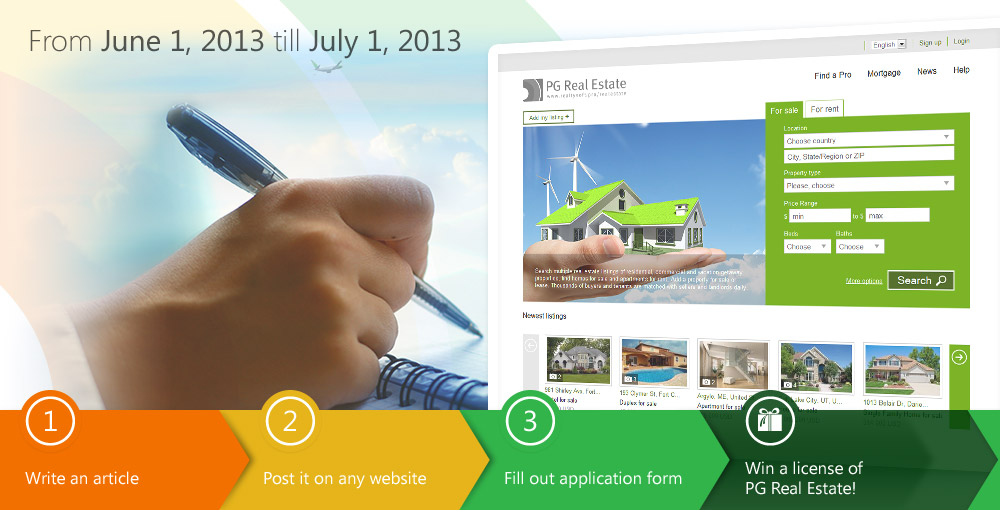 Beginning of July 2013 was marked by the launch of the contest "The real estate market and the Internet" – a wonderful opportunity for those who work in real estate and want to open their own real estate site.
The contest rules were pretty easy:
∙    write an article
∙    post it on any website or blog
∙    apply for participation in the contest
and win the license of PG Real Estate as author of the best article.
We received many participation inquiries during the month. Thank you all for your attention to our contest!
Of all articles we selected the two finalists – they will have the right to buy PG Real Estate with the highest possible 50% discount. And we determined the winner who receives PG Real Estate script – 1 site license, Open source package with All modules.
The finalists are:
Christopher Lazaro with his expanded response to an article spotted at RealtorMag. Link to article.
Elijah Kiemo who thoroughly described his dream real estate site. Link to article.
And the prize goes to…
Nailya Kurbangaliyeva and her fascinating article about a dream to open a smart virtual business center. Read the article here.
Our congratulations to the finalists and the winner!