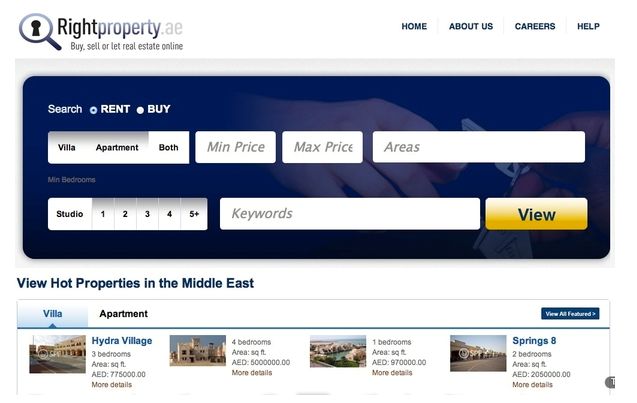 A new property portal has cropped up in the UAE, Rightproperty.ae. The portal has already established itself as one of the region's leading property websites, focusing on the middle and upper tiers of the market, highlighting the top properties from all the top Real Estate Brokers across the Emirates and, helping potential buyers find their next home or investment.
Rightproperty.ae is under the umbrella of unlimited an established IT support and mobility solutions company based in Dubai. Unlimited has just celebrated its 17th Birthday in the UAE.
The property portal has a policy of only allowing government registered brokers and developers to list their properties, providing buyers with a trusted platform to search for properties to buy or rent in the UAE. By only advertising villas and apartments, the company has greatly reduced the filtering and sped up the search time to find a property.
From a technical perspective, speed and ease of use was their priority, the landing page is streamline and search boxes easy to use with minimal filtering.
Vincent Easton, Managing Director, Rightproperty.ae said: "We are constantly developing the search engine so that relevant properties are returned higher in the search results. The rightproperty.ae search engine can analyse properties that best fit criteria, and then autonomously makes suggestions for you." As an example: an individual may want to live by a supermarket, Rightproperty.ae will suggest properties near a shopping mall.
The company has intends to deliver mobile apps for Android (due out 31st of July), Windows Phone 8 and iOS, and there are plans to also have a mobile enabled version of the website for people not using these devices.
"All of our systems are hosted locally in the UAE, on the highest specification servers. We are able to process CRM feeds within 10 minutes of them changing on the CRM system. This allows the real estate agent and rightproperty.ae stay in tune with each other, reducing the need for manual uploads. We do not do one off imports, we keep our system updated in real time," concluded Easton.