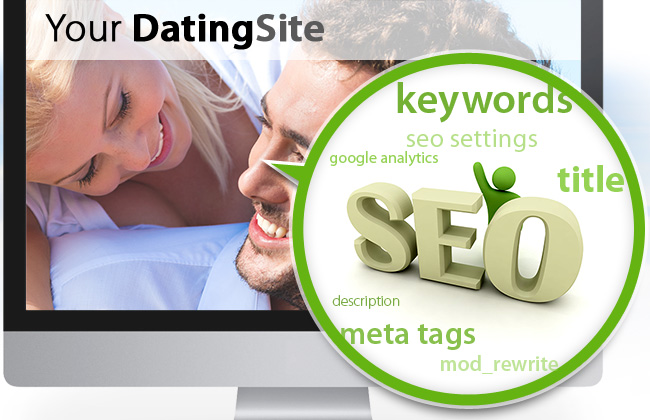 Last year we announced the release of an enhanced SEO module for PG Dating Pro script. With this module, site owners can target their website to their audience in a particular niche; for example, Christian dating, dating by location, by hobbies, specific interests and needs and so on. Site structure of this php dating script was modified to ensure better indexation by search engines.
All SEO features are included in the standard package of Dating Pro site builder, making the SEO module a pre-integrated part of the product. You will not need to pay extra in order to do all the necessary adjustments to optimize your site for the search engines.
SEO module management is easy, is done from an administration panel and does not require any special programming knowledge.
What does the SEO module include? Some of the options are listed below:
Meta tags for the site pages;
Mod_rewrite module support (Apache web server module) to let site administrator edit URLs. Thus, you can make a news page available through the following link: http://www.yourdomain.name/news/news-title.html ;
Ready search results by site member's location;
Site analytics code.
Search engine optimization advice:
Meta tags for the site pages.
Add Title, Description and Keywords to every user mode page of your website to let web crawlers collect this information and later display it in search results.
To do that, log in as site administrator -> go to Settings -> Site -> SEO settings. In this section you can add and edit meta tags for all language versions of your site. Just select the appropriate language in the drop-down menu and fill in the Title, Description and Keywords fields:
Global/General settings apply to all site pages by default unless you indicate individual meta tags for particular pages, such as index page, homepage, photo gallery, new faces, contact us page and others.
Keep in mind that an appropriate Title and Description will not only help your site members and visitors navigate your dating site, but they will also allow your site to rank higher in search results./
Title: Make your page titles attractive and add keywords or key phrases relevant to your website idea. Recommended title length is 70 symbols.
Description: Search engines can use descriptions to show in site snippet. Text should be coherent, appealing and easy to understand. Try to use a maximum of 156 symbols because that is the amount which Google crawler takes into account. The more appealing your text, the more chances that people will go for what it describes.
Also, do not forget to use keywords in the text of site pages descriptions, the best place being at the beginning of the texts.
Keywords: Keywords should display the main content of the page. There are no formal restrictions on the amount of keywords that you can use per page, but we recommend no more than 10-12 keywords per page. At the present time keywords do not play any significant role in site ranking; however, they are in the list of over 200 Google ranking factors.
Tips:
- Make sure your titles and descriptions attract attention – even your own.
- Try to create titles and descriptions that never repeat for different pages. Instead, lay emphasis on special features and on the special role of every particular page.
- Before you start search engine optimization, pin down the semantic core queries (semantic kernel) for your dating site promotion. To do that, compile a list of search queries that you would like your website to be found by. We can recommend a Google keyword tool to help you with that: https://adwords.google.com/o/KeywordTool .
2.     Editing URLs.
Friendly URLs are the second important option to consider. PG Dating Pro uses a mod_rewrite module to let each site administrator edit URLs for the site pages. In order to do that, log into the administration panel -> go to Settings -> Site -> SEO settings -> activate the checkbox "Use advanced SEO module features on the site":

Example: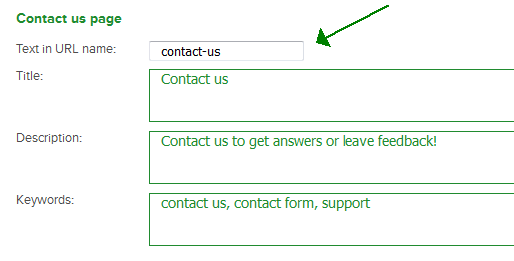 The contact page on your website will be available under link http://www.yourdomain.name/en/contact-us/ (where /en/ is language version indicator by the way).
Try to use keywords in URLs because they are highlighted in search results by search engines as well.
Do not forget to save the changes.
3.     Search results by member's location
If you plan to promote your dating website in a single country, region or city, there is a tool for that. Simply log in as site administrator -> go to Settings -> Site -> Maps & Countries -> Countries -> Select location type -> follow the instructions from https://pilotgroup.zendesk.com/entries/23639917-Site-for-local-community-Location-tool
For example:

Your site members will not need to select United States first; they will be able to start with the US as a default selection and then proceed to indicating their city/town within the selected state.
Additionally, you can display quick links to member's search results by location on the main page of your website. To do that, get back to SEO settings -> Users locations and activate checkbox "Use location links at the bottom of index page of my site":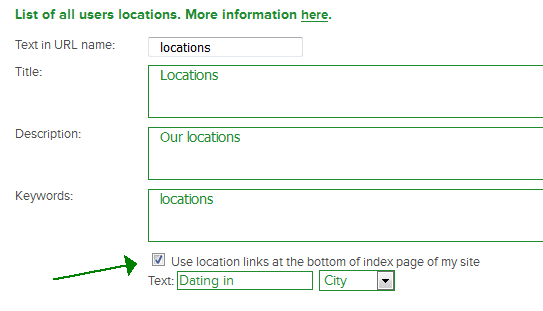 ->This is what site visitors will see at the bottom of the main page:
Clicking upon any such link will bring you to ready member's search results, as in http://www.yourdomain.com/en/locations-Miami-Florida-United-States (mind the text in URL name 'locations').
4.     Site analytics code
a) Google analytics
Open source Dating Pro software offers a built-in solution for placing Google Analytics codes onto your dating website. All you need to do to start tracking your site members' activities is insert your GA account ID in site administration panel. Go to Settings -> Site -> Administrator settings -> Google Analytics, and fill in the field:

More information on Google Analytics here: https://support.google.com/analytics/answer/1008015?hl=en&ref_topic=1727146
This is where you can get your GA account ID: sign up/sign in at Google Analytics -> switch to admin mode (Admin button)

-> create New Account and you will be assigned a Property ID that you need to insert in your dating site administration panel:

b) Other tracker service (Manual tracker)
If you have HTML code from another counter, add it into Manual Tracker field below, in the same section Settings -> Site -> Administrator settings -> Google Analytics: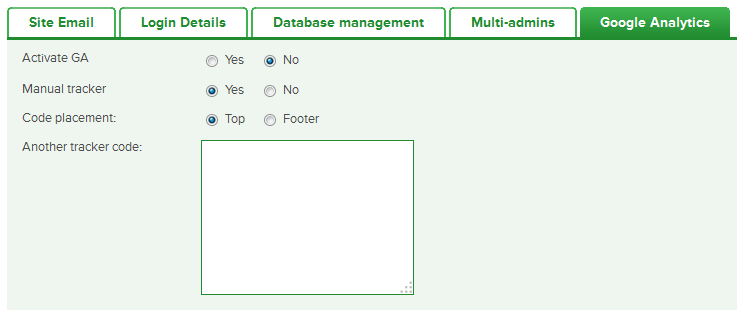 SEO module by PG Dating Pro also includes sitemap.xml, 404 error page processing and other useful features. Since they do not require any effort on your part, we will not be going into details here.
Savvy search engine optimization is essential for every site to work smoothly and to be a success. Once you are done with optimizing your site content and structure, you can count on steady traffic from search engines. It is important that you keep the promotion going as well, and you will see a continuous flow of visitors coming to your dating website.
We would also like to share some useful links and resources that can help you optimize your website for the search engines:
- Make sure you sign up at Google Webmaster Tools (https://www.google.com/webmasters/tools/home) to keep track of your site details;
- If you want search engines to stop indexing certain site pages (for example archives, duplicated pages), add links to such pages into robots.txt file. More instructions here: https://support.google.com/webmasters/answer/156449?hl=en
- Google offers a Search Engine Optimization Starter Guide that we find very useful: http://static.googleusercontent.com/external_content/untrusted_dlcp/www.google.com/en//webmasters/docs/search-engine-optimization-starter-guide.pdf