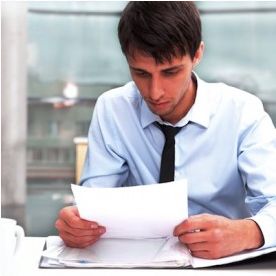 When job hunting, your resume has a way of highlighting little career imperfections in black and white.
Maybe you've job-hopped, had a long gap between gigs, or earned a degree that requires explaining (hello, art history majors!).
Is there a way to smooth over these resume imperfections—without being dishonest? You betcha. You just have to get creative, be upfront, and do a little rebranding. We spoke with job coaches, recruiters, and candidates who have been in your shoes to find out how best to fix six of the most common resume flaws.
Problem #1: You Want to Change Fields but Don't Have Any Experience
What to Do: Play up your skills, not your positions. "What skills have you gathered in your previous positions that would be helpful in another job?" asks Lea McLeod, a career coach and the founder of Degrees of Transition, a job coaching firm.
That's just what she did with her client, Todd Mauvais, 29. Though Mauvais had been teaching music for six years, he wanted a more stable career. He applied to government jobs for a full year before he intended to make his transition, but nothing panned out, and Mauvais wasn't sure why. Once he began working with McLeod, the problem was clear: He didn't lack skills—he simply hadn't identified the right field to apply them.
"Because Todd had a job where he commuted among multiple schools to teach arts classes, he was an exceptional self-manager," she says. "He also promoted summer arts programs to increase enrollment, was a great public speaker and presenter, and was comfortable in front of a room." She helped him recognize that this skill set translated perfectly to a career in sales.
Mauvais rewrote his resume to focus on his relationship building, speaking, and promotional skills, and reached out to a craft beer distributor he thought would be a good fit through LinkedIn. In just over a month, the former music teacher was hired as a sales associate and is still happy in his role there today.
Problem #2: Your College Degree Isn't Directly Relevant to the Job or Field
What to Do: If this describes you, don't worry: You're hardly alone. "Only specific fields—like engineering, graphic design, healthcare, pharmaceutical, and automotive, to name a few—require related degrees for entry-level work," explains corporate recruiter Dennis Tupper. "Otherwise, companies are seeking someone who is coachable and moldable, will work hard, and has a vested interest and passion in the company or industry."
Taylor Brady, 23, faced this very challenge with his sociology degree. Having grown frustrated after three months of sending out resumes for jobs in social work and nonprofits without getting any response, he, too, reached out to McLeod. "I had friends graduating from business school who were Excel wizards and such, but I had to be creative in regards to selling myself," says Brady.
"To focus Taylor's experience," explains McLeod, "we called out his work with a grant-writing mentor as a 'special academic project' and included the types and values of the grants he had written, so it really popped when he was applying for the grant-writing jobs he really wanted."
He also led his resume with a "Special Skills" section, which highlighted the key points of his past internships (including grant writing, donor database management, and volunteer coordination), then provided more information about each role in the "Work Experience" section. With McLeod's help, Brady found his current role as a grant writer at a nonprofit by rebranding his resume to focus exactly on what he could do for his potential employer.