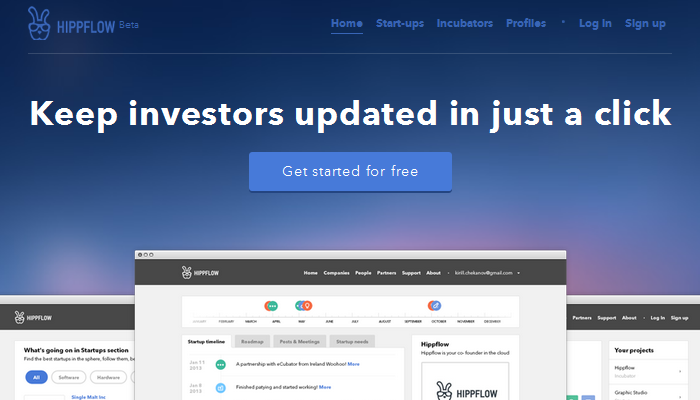 Kirill Chekanov was 14 when he started his first company in hometown Moscow. He set himself up as a human resoures unit, connecting student workers with startups. Through that, the high-schooler got to know the Russian capital's startup scene, which led him to his next idea and his new company: Hippflow.
Hippflow is a social network for startups and investors. The idea is that startups can post their milestones, achievements, goals, and product release information to the network so that their followers – specifically, investors – can easily get a sense of what they're up to. Hippflow presents the information in a highly visual way and lays out the key moments in a horizontal timeline at the top of each startup's profile page.
Chekanov, who is now 18 and just out of high school, heads up team of six, and the company has just raised money from private investors. While he won't disclose the funding round, he says the company received a valuation of $1 million, which is chump change by Silicon Valley standards but not bad for a Russian teenager. The company launched the latest version of its website two weeks ago, and it has about 140 startups and entrepreneurs as members. Hippflow is free to use, and Chekanov plans to monetize it by opening it up to startup-oriented service providers for advertising.
While AngelList provides a similar database of startup and investor information, Chekanov sees Hippflow as a communications tool, kind of like Twitter for investors. (It can't go without saying, though, that Hippflow's logo is uncomfortably similar to AngelList's.) His team of three developers has even developed a soon-to-be-released Google Glass app for the network, which will provide Glass-wearers updates about startups as they post new developments.