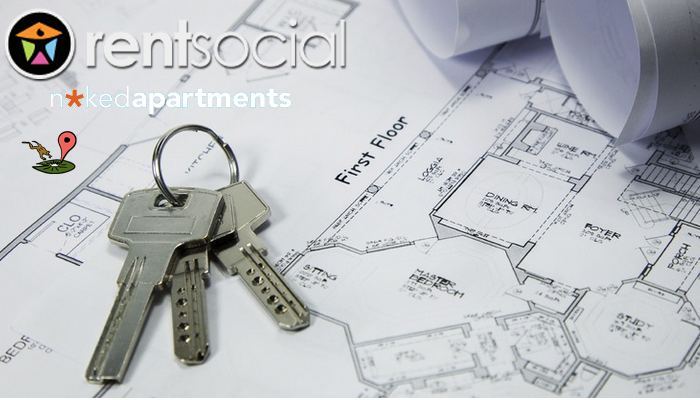 Finding a new apartment is a huge headache. While the Internet makes it easier to peruse potential places, it also introduces its own complications.
Jessica Fee has compiled a list of networks that make the process simple and social. Some sites connect you to reliable listserves, while others let buyers review brokers. But all function slightly better than Craigslist.
Rent Social makes it absurdly easy to coordinate your apartment search with your future roommates. To access the social network, either create a new account or sign in through Facebook.
Rent Social recognizes natural language processing, so you can type "apartments on the west side highway" and the search results will match your inquiry.
The interface looks a lot like Pinterest — once you find an apartment, ask your social networks to weigh in by tweeting, pinning or posting to LinkedIn or Facebook.
Rent Social also lets you create favorites folders, or "Keepers," in which to organize different searches (e.g. "Apartments in Manhattan" in one folder and "Apartments in Brooklyn" in another). You can also add "Collaborators" to Keepers folders, so you and future roommate can coordinate apartment notes directly on the site.
Naked Apartments adds accountability to your apartment search. The site requires everyone to create a profile, either manually on the site or via Facebook. Brokers are rated on a five-star scale and reviewed by previous renters, so you're less likely to encounter scams. With the site's easy search function, be as specific or as vague as necessary in your search query. Search results contain tags like "Exclusive," "Low-Fee," "No Fee" and "By Owner" to help you find what you're looking for even faster. The site also helps you coordinate with your future roommate; if you enter his or her email address, the site will send a daily recap of the latest listings.
Padmapper is a search tool that plots your potential apartments on an interactive map. Once you've specified your search conditions, set up email alerts for you and your future roommates. Adjust the frequency of these alerts to hourly or daily, and allow people with matching listings to contact you directly.
Read more here