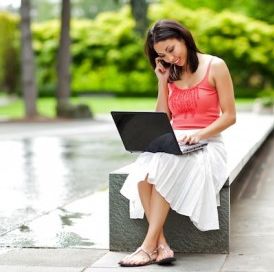 Summer is a time for relaxing, for heading out at 5 PM sharp to enjoy a rooftop happy hour, for taking it a little, well, easy. You'll focus on scoring that promotion or getting your resume whipped into shape after Labor Day, right?
I'm with you: Everyone needs a little down time, and summer's the perfect time to take it. But, the lazy days of June, July, and August are also a great time to knock out a few of those activities you never seem to find time for the rest of the year.
So, this season, check these five career-related to-dos off your list. (But don't worry, they're all easy—and fun.)
1. Do Some Summer Reading
Remember that book your boss put on your desk in February—that you just haven't gotten around to yet? Or the 10 pages of The 4-Hour Work Week you read before the new season of Mad Men started? Yeah.
But since you're lounging by the pool anyway, add a bit of productivity the mix by picking up (or picking back up) one or two career-related books you've been meaning to check out. Need some inspiration? Check out Forbes' great list of career-boosting reads.
2. Throw a Party
OK, by party, I mean networking event—but hear me out: Everyone's in the mood for potlucks, BBQs, and happy hours all summer, so why not host one with a job-related focus? Have a few friends pick up the same book you're reading, then discuss over white wine on your patio. Or, grab three friends in your industry, ask them to each invite three others, and have a get-to-know-you happy hour after work. You'll make nine new connections with next to no effort!
Alternatively, you could invite your department over to your place for an office BBQ—it's a fun, easy way to get to know your employees or team members better.
3. Take Long Lunch Meetings
When summer hours or more relaxed workdays roll around, all you want to do is take long lunches on a patio, right? So, do it! But, take advantage of this time and challenge yourself to set up lunch dates with 1-2 professional contacts each month.
If you're looking for a new gig, pick people who work for the companies you love. Want to score that promotion? Choose people you've worked with before or who are higher up in your industry who can give you insight into what it takes to get to the next level. Or, take a co-worker you've been wanting to get to know better or one of the interns who might benefit from your expertise (he or she will appreciate the out-of-office time, too).
Read more at The Daily Muse.