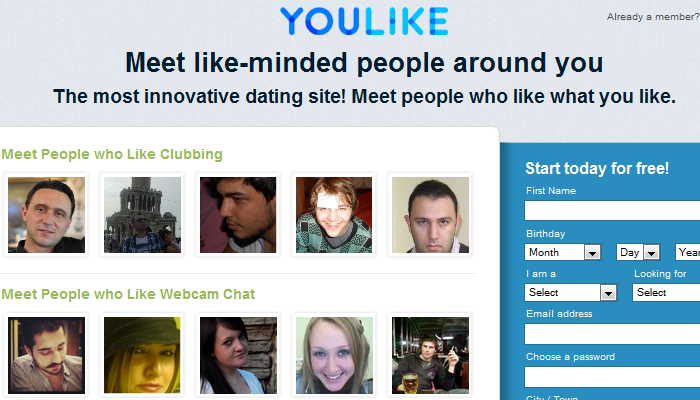 YouLike, a startup backed by the founders of Turkish eBay clone GittiGidiyor, describes itself as an interest-based social network and dating site that takes into account a user's dislikes, as much as what they do like, when helping to find like-minded people to friend or date.
Unlike a lot of other dating sites that ask you to fill out a lengthy and data-heavy questionnaire or simply pen an open-ended profile, YouLike presents a series of fun questions ranging from what activities you love or hate, your food and entertainment tastes, or your relationship preferences. Each question requires a simple multiple choice response — "love", "like", "dislike", "hate", or "skip" — which forms the basis for how YouLike matches users.
This home-grown approach to generating a user's interest graph is also intended to produce less so-called dirty data that simply importing a user's Facebook 'Likes' (a technique used by other dating sites and interest-based social networks) can produce. Not only is the site intentionally starting out clean, but Zuckerberg's social network famously lacks a 'Dislike' button, which for YouLike's match-making purposes would only tell half the story. After all, they do say that opposites attract.
So, for example, YouLike might ask a user to rate an activity related to "cooking" or "shopping", or to express their disposition to "waking up early" or "never being late". Other questions drill down to a user's dating preferences more explicitly, such as "a guy should always make the first move" or whether or not "kissing on the first date" is the done thing.
This data is then employed when visiting another user's profile. Members can compare their rated likes and dislikes with those of a prospective match. The results are displayed as "you both like", "you both dislike", "you like but he/she dislikes", and "you dislike but he/she likes".
Read full article here.