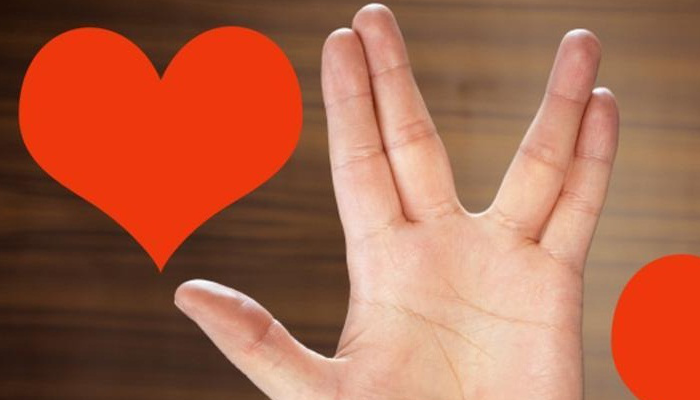 Need a date to 'Star Trek Into Darkness'? There's an entire subculture of online dating just for Trekkies like you. Kevin Fallon straps on Vulcan ears and explores the niche matchmaking trend.
Is your idea of a good date dinner, a movie, and a passionate debate about whether Gul Dukat, even though he hurt a lot of Bajorans while commanding Terok Nor, is good or evil? Well, you're in luck.
"Set phasers to stunning and if that doesn't work set them to stun!" encourages StarTrekDating.com, one of a number of dating websites that have beamed online in recent years to help Star Trek and sci-fi enthusiasts find love. "If you're a sci-fi fan and want to meet your Borg Queen or Captain Kirk, try it now!"
"Welcome to a dating community that is light years ahead of others," teases the homepage for TrekkieDating.com. "Find like-minded friends, romance, and convention dates with other Trekkies TODAY!"
On TrekPassions.com, one 22-year-old user from Texas headlines his profile: "Beam me up…to the attractive Trekkies:)" He goes on to say, "I love Star Trek TOS"—that stands for The Original Series, for the uninitiated—"Makes paying for Netflix worth it all by itself. Come watch it with me? Maybe some NG [Next Generation]?" …
Star Trek isn't just the perfect icebreaker to ease the awkwardness of an online meet-cute. It's a uniting passion. "Go to generic sites like Match.com or eHarmony.com, and it's harder to find someone you have this much in common with or someone with an interest you can latch on to that says we're this similar."
But not everyone buys that idea. A mutual quirky interest or shared obsession over the same movie predicts nothing about a potential couple's future compatibility, says dating coach and author Evan Marc Katz. That both parties enjoy Star Trek has no bearing on whether they're going to be devoted partners or argue a lot or be able to support each financially other decades from now.
Read more here.
Via mashable.com