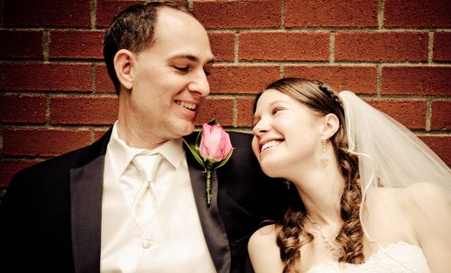 In the world of online dating agencies where first, second and last chances at romance are frequently promised, the guiding ethos of Catholic Match is simple and direct: 'Grow in faith, fall in love' is its website's guiding mantra — a message that is clearly being heeded, given its one million visitors every month.
Headquartered in the small town of Zelienople, Pennsylvania, it began in 1999, when friends Brian Barcaro and Jason LaFosse launched a local singles forum 'to help cultivate marriage and provide a vibrant, moral community environment'.
When the site became a major success, they added partner Mike Lloyd in 2003 and rebranded as CatholicMatch.com. "It was their goal to provide a pleasing, easy to use interface with a more faith-filled experience than the secular 'one-size-fits-all' sites," said Robyn Lee, editor of the Catholic Match blog. By 2005, it had become the number one online service for single Catholics with membership across the world, including the UK, Australia, the Philippines, much of Europe, including Ireland.
"What differentiates Catholic Match from other dating sites like eHarmony or Match.com is that we provide a uniquely Catholic experience," she explained. "Our service provides an emphasis on what is important in establishing a strong Catholic relationship and marriage. Although we provide many tools to help single meet each other for a romantic purpose, we understand that ultimately God's will and time is what truly brings two people together," said Lee.
Catholic Match is a vibrant community where singles can also find friendship, community, support and grow deeper in their Catholic faith, she adds.
With almost 27m single Catholics in the US alone, the site became the largest Catholic dating site in America catering to the needs of this huge demographic. "While diocese and parish Marriage & Family life offices are doing much to support marriage they are often overworked and understaffed, that is why we feel Catholic Match is perfectly positioned to help support marriage and family life offices as the need to address singles in the Church continues to grow," says Lee, who has an undergraduate degree from Christendom College in Philosophy and a masters in Dogmatic Theology from Holy Apostles College.
"Users are drawn to Catholic Match because they are looking for a spouse who shares the same faith and similar values. It provides tools like a temperament test that helps users to know more about themselves and what they are looking for in a potential spouse. Members are able to realise the importance of God's gifts and be open to sacramental grace when seeking their future spouse."
Lee adds that "we have had thousands of couples get married as a result of meeting through CatholicMatch.com, and they're just the ones we know about."
Read full article here.