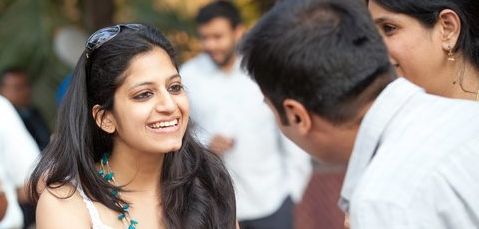 After decades of fixing arranged marriages for their children, Indian parents are taking on a new challenge: trying to orchestrate their kids' love marriages.
A new generation of young Indian professionals has refused to follow the arranged-marriage route, with its emphasis on caste, family ties, wealth and skin color – with the blessings of their parents.
But as these kids tread toward their 30s, some parents say they fear their offspring's chances of finding a marriage partner are evaporating entirely. These parents, while trying to respect their children's wishes, are trying other measures, like pushing their offspring to singles networks and online dating sites.
Take Pramodini Srinivasan, a former trainer in the information technology industry and now a writer for a wellness Web site. Ms. Srinivasan has a Bangalore-based nephew who is nearing 40 and a Bangalore-bred son in London who is hitting 30. Both are indifferent to marrying within their traditional south Indian community.
But neither has made any headway in finding a wife on their own, even though Ms. Srinivasan has declared that she would be happy for them to fall in love and marry.
Having agreed not to tap the network of Ms. Srinivasan's traditional community for suitable wives, Ms. Srinivasan is now laying out her son's and nephew's specs to everyone she knows.
On a large social networking group for women, Ms. Srinivasan recently sought advice from hundreds of strangers on getting her eligible nephew hitched. Somebody suggested she tap into her circle of friends but Ms. Srinivasan confided that her network was limited.
She wanted to register him on a dating site. "But he is not daring enough," she rued. She urged him to start a trekking ground and take young people out on weekends so he could meet a compatible "outdoors type."
The women the men want are a new breed: smart, sophisticated, financially independent marriage partners. Arranging a match within a community is daunting enough, Ms. Srinivasan and concerned parents like her say, but fixing up a match with the amended specs is confounding even in Bangalore, a friendly city full of ambitious young professionals.
The alternative for parents like Ms. Srinivasan is to nudge their children to sign up for online singles networks. Two of them, Floh and TwolyMadlyDeeply, are based in Bangalore but have operations in other Indian metropolitan areas too.
Both were created to fill a growing need for urban Indians seeking educated global professionals like themselves, without regards to caste, region, language or any of the other traditional matrimonial requirements, but the two networks are not immune to parental influence.
Read full article at http://india.blogs.nytimes.com