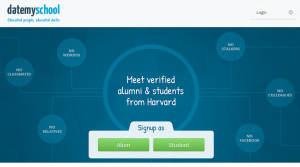 DateMySchool is a dating site that targets students.
The statistics out there report that one in five people meet online – which includes everything from social media sites like Facebook to dating sites like Match.com. But even in this digitalized age, an estimated 80% of people don't meet on the computer—and it's those people that the founders of Date My School are trying to target.
"We looked at why more people didn't use these services," said 31-year-old Balazs Alexa. "It has the potential to make your life so much easier in the sense that you don't have to wait years and years to find the one, and you can find them much more effectively and faster."
"At Columbia, the business school is 70% guys, the teacher's college is 80% girls, the nursing school is 90% girls," said Jean Meyer, 30-year-old co-founder of the service. "So we figured out there was a huge separation between departments—and even other universities. So we wanted to start a website, using technology, to help this huge market of people."
At Columbia University, where the two launched their beta, 40% of the students are now using the site.
"The business school was a big help," said Meyer, "not only as a launching pad, but as a way to access funding and market the website."
Meyer, who is originally from France, and Alexa, who is originally from Hungary, both had startups in their home countries but decided to come to the U.S. to take a stab at its market.
The company is not yet profitable but it has received over $3 million in funding — and Balazs and Meyer are hoping to secure more capital in the upcoming year to help develop their mobile apps.
And we wish them good luck with that.
Read full artilce here.