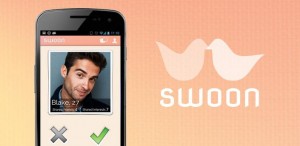 There are so many dating apps these days. In fact, they can be overwhelming. How to choose which to use?
There's a new one that claims to be "very addictive," with "ease and speed" like no other, with "no rejection factor, so you don't have to worry about rejection."
Swoon launched Android only to start, but an iOS version is expected in May. The concept behind it is so simple. You connect your Facebook account — no questionnaires to fill out, nothing — and you're flipping through a bunch of Facebook profile photos with first names, ages, mutual friends and mutual interests listed. You flick a card in any direction or hit an 'X' to move to the next one. In fact, you can cycle through people as quickly as you'd like (as fast as you can comprehend).
If you're interested in someone, you hit a giant green checkmark. The other party is notified of interest. They can see your basic info and if they're interested too, only then will you get notified. Otherwise you'll never know ("no rejection"). If there is mutual interest, you can start chatting right within Swoon.
Readfull article here.