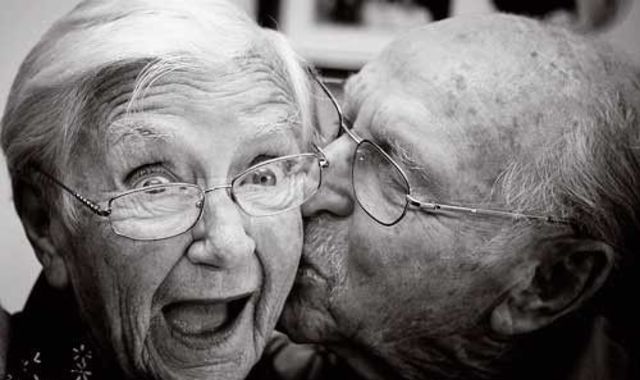 Jan is a widow, who was married for over 50 years. She now lives at Bayview Retirement Community in Seattle's Queen Anne neighborhood, a place that's home to hoards of women who have outlived their husbands. It's not a good place to find a date.
"There are plenty of females here. The men are mostly very old and they're not interested in women at all! (laughs)"
But some of these ladies crave companionship. So Bonsai Media Group created a class at Bayview called Social Media For Silver Foxes. Last month they learned how to navigate Facebook and yesterday they were introduced to online dating.
"I want to learn more about it because I have been avoiding it," says Rose, a senior who doesn't live at Bayview, but attended the workshop. "I'm sort of annoyed that people go shopping for mates online now, as if we were a card catalog. That meeting people isn't done the old fashioned way. On the other hand, I better get over it. I have these expectations of what it's like and I really could be wrong. I'm hoping so."
Rose says you can't meet a man like you used to.
"People would meet by reference of friends and I don't see that happening. I see people just sort of taking it easy and safe and using their computers. So I thought, whoops! I guess I'm going to have to get with it because I've got a lot of life left and I'm looking forward to meeting people."
Gus Zadra led the class and he recommends the sites www.seniormatch.com and www.ourtime.com. He says online dating doesn't have to mean a physical date, it can be a correspondence.
"You know, it's a great thing to look forward to each morning to talk to that person that you share a special bond with," says Gus. "You don't necessarily ever have to meet them. Don't worry about the geographical situation that you're in, or even physical. This is about your spirit and about the energy that you have with a person and sharing that energy with somebody else."
Gus's goal was to dispel myths about online dating, to teach the seniors how to spot and avoid scams, and to give tips on setting up a great profile.
"How to share their personality, how to pick a good profile picture, how to pick a good name, a good slogan," he says.
Dolores Rossman is in a committed relationship and doesn't live at the retirement home, but she wants to take the information back to her single senior girlfriends who are looking for love.
"Isolation, as you get older, is really a challenge. Some of the ways that they had dates, in the past, they may not be able to do anymore. Or they're just a little bit confused as to, what is the dating scene?"
Rose says she's achieved her career goals, and now it's time to find a partner.
"I want to go enjoy the world, go travel a little bit, have a lot of fun, go dancing. Someone who wants to have fun, who maybe has had hard things in their life but, get over it and have fun now!"
Jan had never considered online dating, but now her interest is piqued.
"A correspondent would be better than nothing. It would be, probably, easier. But if there was somebody, I'd give it a whirl."
Article source: http://mynorthwest.com