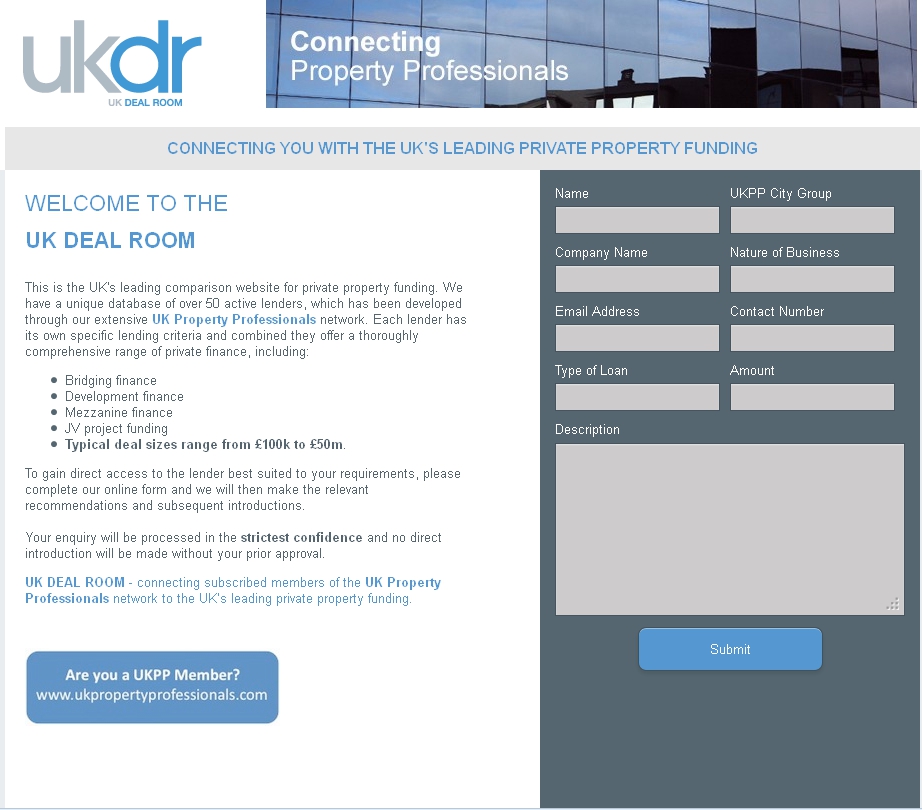 In the UK, a new property portal with a difference has been launched, UKdealroom.com, the offspring of U.K.Property Professionals (UKPP). The new website does not sell property, but it does try to bring together developers with investors across the UK who are looking for investment opportunities from £100,000 up to £50 million. The new website is reportedly hoping to bring a £1 billion boost to the sector.
UKdealroom.com is a comparison website for private property funding, offering a database of over 50 active lenders, which has been developed through the extensive UKPP network. The company states on its website that each lender has its own specific lending criteria and combined they offer a thoroughly comprehensive range of private finance, including:
Bridging finance
Development finance
Mezzanine finance
JV project funding
Typical deal sizes range from £100k to £50m.
Mark Antscherl, the founder of the UKPP network and UKdealroom.com, said the venture acted as a "dating site" for property developers and private investors seeking to finance them.
He said: "Each lender has their own specific lending criteria, and combined they offer a comprehensive range of private finance, including bridging finance, development finance, mezzanine finance and joint venture project funding.
"This is an extremely exciting new platform, which gives property professionals access to finance that is no longer available through the high-street banks"
The company said that 
finance is available for 
residential, commercial and land projects.