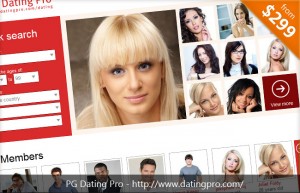 PG Dating Pro is an established solution for creating dating and community websites. It is easy to install and run, does not require any ongoing payments, is supported by a dedicated team through live chat and helpdesk system.
Among the many advantages of the PG Dating Pro platform there is an attractive design and simple navigation for site members, multimedia uploads & tiled photo gallery, numerous communication options.
Multiple tools in administration panel let the site administrator manage users' info and billing, site logotype and colour scheme, texts, news and other content. Flexible settings make it possible to adjust this dating platform builder to any niche idea, directly from administrator mode.
Now PG Dating Pro solution comes at better prices. It is possible to obtain the basic package for only $299. All Modules packages and All Inclusive packages have also been price reduced.
Check out the available options:
* All Modules version includes an open source or a basic script plus every additional module there is;
* for All Inclusive Light package there is the script, either basic or open source, plus all add-ons, plus hosting account for 6 months (1 GB disk space, unlimited data transfer, 24/7 Monitoring, meets all system requirements);
* for All Inclusive package there is the script plus add-ons, plus hosting account, plus 8 hours customization work and basic design template integration!
Mind the 10% discount for every item in the 'all' type of packages.