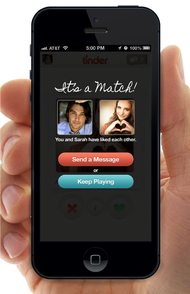 At first glance, Tinder, a new mobile dating application, doesn't seem much different from the dozens of other dating apps that are already out there, promising to help you meet nearby singles.
After signing up and setting their gender, location and sexual orientation, users swipe through profile pictures, tapping a green heart when they like what they see and pressing a red "x" when they don't. Any time a user "likes" a member who has also liked him or her back, the application declares a match and introduces the two in a private chat room where they can warm each other up, exchange info and arrange to meet.
But there's something about Tinder's simple, flirty interface that is undeniably fun. It combines the sleazy appeal of rating profiles, popularized by Hot-or-Not, and the excitement of apps like Grindr that let people browse photos of people nearby who are eager to meet up, and rolls it into a simple and lightweight application that is easy to use while waiting in line at the grocery store and fun to show off to friends at a party. Although the application requires connecting through Facebook — typically a turnoff for people who don't want to accidentally see the profiles of their colleagues or worry about embarrassing notifications popping up on their Timeline — it is cleverly discreet. The application, which uses Facebook data to match singles, tends to show users only friends of friends, avoiding potentially awkward run-ins, and it does not publish anything to members' Facebook pages.
Tinder, which was introduced as an iOS application in October, appears to be picking up steam. Its founders say the application is downloaded more than 20,000 times each day and to date they've made 20 million matches through the service. Tinder's creators declined to say how many people were using the application, but AppData, a third-party service that tracks app activity, estimates that Tinder has around half a million monthly active users.
Read full article here.