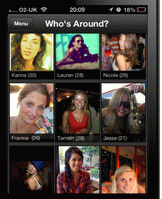 Dattch, the lesbian dating app, has moved up a level to provide a solid beta for invite-only users.
The earliest version of the app launched last November and Founder Robyn Exton says that there have been weekly adjustments led by the reaction of its community.
The app lets gay women know about other ladies looking for dates in their area. At the moment it has a focus on London but Exton has big plans for international expansion once things are up and running to suit the audience in the UK.
Exton says that gay women tend to use Internet dating a lot more than heterosexual women because it's harder to meet other gay women, but that the experience is never quite right. "It works in the sense that you can chat to other people and maybe go on the odd date but they were all faulted quite seriously in a number of different ways," she says. "I was interested in programming personally and I'd done the dating stuff before, I'd looked at doing other dating apps and I thought this is it, this is the one.
Read full article here.