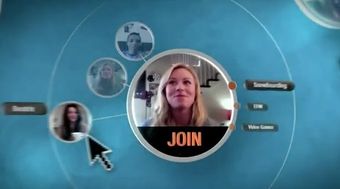 Rabbit has raised $3.3 million in funding for its innovative video chat system.
The San Francisco company wants to reinvent chat by creating a better user interface for grouping people together. The aim is to replace clunky video chat with a reimagined look and feel that is akin to having isolated conversations with a few people at a larger party. As we noted in our debut story about them, the result is very interesting video chat app that you can use to share anything — movies, music, photos, and more — with your friends, transforming video chat into social communication.
The new investors include Google Ventures, CrunchFund, and Bebo founder Michael Birch. Existing investors also participated.
The founders include Stephanie Morgan, who hails from the video game and music industries. The app is now live as a private beta test on Mac OS X (version 10.7 or higher), and it competes with Google Hangouts and Skype. Rabbit has a very different feel than those, more like something fun than a utility.
When you log in, you may enter a variety of different conversations, which could be organized around any label. If you click on one, you will hear a mishmash of voices as if you just walking into a party at somebody's house. You'll see circles with the faces of people attending the online gathering. You can people-watch before you go in.
You'll see them talking and moving their faces in real-time. If you hover your mouse cursor over an image, you'll get more details about the person. If someone is attached to several other circles, that means he is engaged in a conversation with them. You can click to join that conversation as long as it isn't roped off as private. You'll find that the sound changes to match the voices in the room. No longer will you hear the murmur of other people in the larger party. Then, you can chat.