There are various ways to monetize your online dating website. A lot of new dating websites prefer to offer free membership with additional paid services. This way you get your site members involved and grow your database.
Services represent micro payments for virtual gifts, highlighting profiles, site alerts and messages. Micro payments are very popular in Eastern Europe and Russia (see Mamba.ru) and are becoming common in other countries (see PlentyofFish, Oasis, OkCupid). Some sites start completely free and become "freemium".
Whichever road you choose for your own dating site, consider PG Dating Pro as software base, for this dating site builder offers a number of smart monetization tools that are already built-in. They come with the package and may be switched on/off when the time comes.
Here are some tips on what you can get and how to manage monetization tools in Dating Pro script:
1) Lift up profile in search
This paid service allows site members to lift up their profile in search results for a fee. You decide on the pricing. To set it all up, go to: Admin mode>Settings>Paid services>Lift up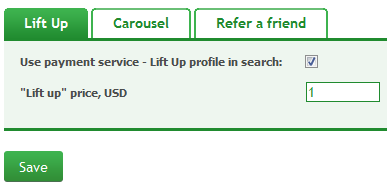 - You can switch on/off the service any time
- You can choose the price
2) Carousel
Carousel is a slider with user photos on your website. Members buy their presence in the carousel for a certain time. You manage the cost and other settings.
To set it up, go to: Admin mode>Settings>Paid services>Carousel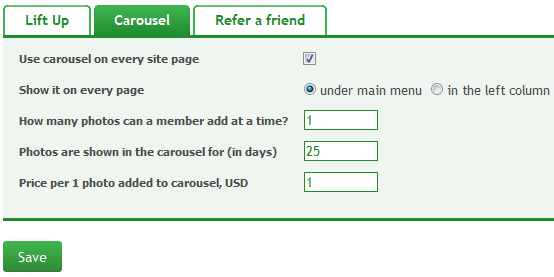 This is what your site members will see:

Members are paying from their internal account on the site.
3) Refer a friend
It is a 2-way service. Members can bring other people to your website and get credit to their account. To set it up, go to: Admin mode>Settings>Paid services>Refer a friend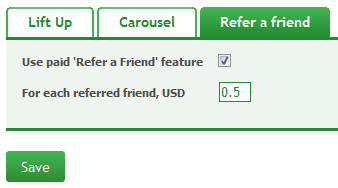 You can decide on the bonus amount here too. Some administrators prefer to switch it off.
There are more monetization tools for you to use in our open source dating software. We'll cover them in our next article (part2 and part 3).