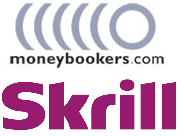 London, UK –13th February 2013. In the last week, Skrill has been recognised twice for its leading position in the online payment industry by scooping awards for best payment provider. The awards are reflective of Skrill's long-term ambition to become the first choice for online payments, by providing a global, secure payments solution allowing gaming merchants to accept payments internationally.
Skrill was presented the 'Best Payment Solutions Provider Company of the Year' award at the International Gaming Awards 2013 on February 4th. Supported by leading international gaming professionals, the award event celebrates and recognises the achievements and success within this highly competitive and demanding industry.
The company also won 'Best Payment System' at the iGB Affiliate Awards on Friday, February 8th, the iGB Affiliate awards, now in their sixth year, celebrate growth, innovation and achievements in the gaming industry and are decided by both votes and a jury.