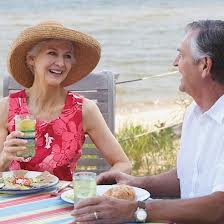 Matchmaker.com unveiled the findings of a study on the dating habits of senior citizens. The survey revealed that 75% of men and 85% of women, age 55+, prefer a serious relationship to marriage. With regards to sex, 95% of men and 85% of women want a healthy sex life, regardless of age. Senior citizens, age 55+, represent 25% of Matchmaker.com's overall member base. Thousands of singles have entered into serious relationships, gotten married, and found their perfect match through Matchmaker.com. Started in 1986, Matchmaker.com is the longest running online dating site on the Internet.
Key Findings:
Majority of men and women do not want to get marriage again. 80% of women and 75% of men just want a serious relationship.
30% of women who do not want to get married again are concerned that a second marriage would hurt their children. Comparatively, only 4% of men think a second marriage would hurt their children.
Single men are more hopeful about falling in love! 55% of men, who want to get married, are hoping to fall in love again. Comparatively, only 25% of women were hoping to find love again.
Majority (65%) of men are much more sexually active now than they were when they were married. While majority (55%) of women, were much more sexually active while married.
Read full artile here.